Babymoon Travel Tips For Taking A Trip Before Baby Is Born
Going on a babymoon is a great way to connect with your partner and pamper yourself before the baby comes -- but it can also be expensive. Before you put off taking a babymoon because of the economy, here are some tips for having a great vacation without busting your budget.
Ami Burns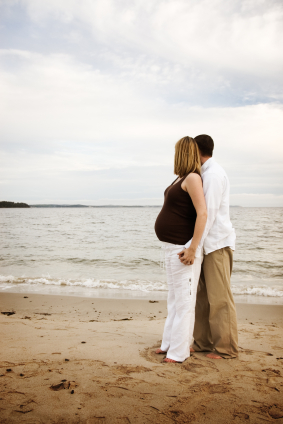 You deserve a relaxing trip before baby arrives. Take our advice for safe and happy travels.
Travel safe
According to the American College of Obstetricians and Gynecologists (ACOG) the ideal time to travel is between 14-28 weeks of pregnancy. ACOG also recommends that moms have a copy of their pregnancy medical records and know where the nearest hospital is at your destination – just in case. Check with your specific airline or cruise line to find out what – if any – pregnancy travel restrictions they have. You may want to travel in the second trimester when morning sickness usually subsides and you have more energy. If you wait to take a babymoon until the third trimester, check with your healthcare provider to see if it's safe to fly. Airlines and cruise ships can let you know specific guidelines for pregnancy travel, too.
Deciding where to go
Do you want to fly to a special destination or stay closer to home? A great place to start is babymoonfinder.com. Ashley King created this site after having a hard time finding places to take a babymoon when she was pregnant with her first child. Her site now lists over 200 babymoons at destinations worldwide, including many for budget-conscious parents-to-be.
If a bed and breakfast is more your style, another site to check out is BnBfinder.com for special babymoon packages at B&Bs nationwide. For example, a 2 night babymoon at Montgomery Inn Bed & Breakfast in Versailles, Kentucky is $365 plus tax and includes sparkling cider on ice, hand dipped chocolate covered strawberries, 24 hour snack bar, special body pillows for mom's comfort, robes and access to temperature controlled hot tubs -- be sure to ask your healthcare provider if it's safe for you to use a tub while pregnant.
Babymoon budget
Megan Hendricks of Tampa, FL and her husband decided on a babymoon budget of about $300 including gas, food and lodging. "We drove an hour and rented a vacation house on Pass-a-Grille beach for the weekend. It was fun, relaxing, and very cost effective. We even ate breakfast in and grilled out for one of our meals to save money."
Connect with your partner
Babymoons are a great way for partners to get some much-need rest and relaxation – for both of you. "Pregnancy is all about your wife and once the child comes it is all about the baby," says expectant father Jack Miller. "A babymoon is one of the few times you can celebrate it being all about "us" as a couple. "
Jack and his wife Cathy recently took a Carnival cruise that only cost $250 per person. "This trip was necessary for us to share quality time together, relax, and reflect on where we are in our lives and how it will change in the near future."
Staycation babymoon
"For couples like us on a budget, I suggest creating your own babymoon if
you can't find the perfect fit," says babymoonfinder.com King.
Shannon Choe is a mom who planned a trip in her own city. "We were expecting our third, so got a sitter for our other two kids and booked a hotel, spa, brunch in Philly. "It was great to sleep in, get a massage, eat yummy food without interruption."
Read More: