The US CPSC Has Recalled Hundreds Of Dutailier Drop-Side Cribs. Keep Reading To Find Out Whether Your Crib Is Part Of The Recall.
The US CPSC has recalled hundreds of Dutailier drop-side cribs. Keep reading to find out whether your crib is part of the recall.
Another drop-side crib recall! Dutailier Group Inc., of Quebec, Canada, in cooperation with the U.S. Consumer Product Safety Commission, has issued a voluntary
recall of 440 drop-side cribs.
The cribs were sold at children's products stores and other baby specialty stores from January 2009 through February 2010 for between $425 and $775.
Recalled item
This recall involves full-size, drop-side wooden cribs. The recalled cribs have part numbers that begin with the following:
E1230C2
E3500C2
E3540C2
E5100C2
E5140C2
E5530C2
E9000C2
E9100C2
The Dutailier logo and the part number can be found on labels on the inside of the end panels.
Reason for recall
The slats on the drop side can detach from the top and bottom rails creating a space between the slats. An infant or toddler's body can become entrapped in the space, which can lead to strangulation and/or suffocation. A child can also fall out of the crib.
The CPSC received 16 reports of detached slats, but no reports of injuries.
What should you do?
You should stop using the crib immediately and contact Dutailier Group to receive a free repair kit that consists of a new fixed side to replace the drop-side of the crib.
Want more info?
You can contact Dutailier Group at 800-363-9817 Monday through Thursday from 8:30 a.m to 5 p.m Eastern, and on Fridays from 8:30 a.m.to 4 p.m. Eastern. Below is an image of one of the recalled cribs, but note that several different Dutailier drop-side cribs were recalled. You can view them all on the
recall notice
.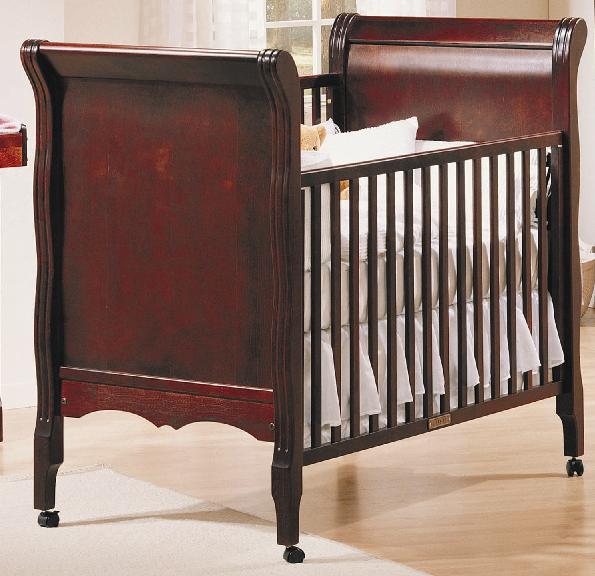 (Image via US CPSC)
More drop side crib recalls
Recall: Drop-side cribs sold at J.C. Penney
Recall: Shermag drop-side cribs
Recall: Dream on me drop-side cribs