Over 400,000 B.O.B. Single And Double Jogging Strollers Have Been Recalled Due To A Choking Hazard. Keep Reading For More Info.
Over 400,000 B.O.B. single and double jogging strollers have been recalled due to a choking hazard. Keep reading for more info.
In February,
B.O.B. recalled over 350,000 jogging strollers
. Today, the company, in cooperation with the U.S. Consumer Product Safety Commission, has issued a voluntary
recall of another 411,000 plus jogging strollers.
Approximately 411,700 strollers are part of the recall in the United States, plus an additional 27,000 in Canada. This recall involves
all
B.O.B. strollers manufactured between November 1998 and November 2010. If your stroller was made after October 2006, it will have a white label on the back of the stroller leg with the manufacture date printed there. If the manufacture date is November 2010 or earlier, it is included in the recall. If you stroller does not have a white label on the stroller leg, it is part of the recall. This recall includes both single B.O.B and double B.O.B. strollers. The strollers were sold at REI, Babies R' Us and other children's product and sporting goods stores nationwide and on Amazon.com between November 1998 and October 2011 for between $280 and $600.
Reason for recall
The stroller canopy's embroidered logo's backing patch can detach, posing a choking hazard to babies and young children.
The CPSC has received six reports of the patch detaching and children putting it in their mouths. In two of those incidents, children gagged and choked, but no injuries were sustained.
What should you do?
You should stop using the stroller and immediately remove the embroidery backing patch from the interior of the canopy's logo. You can contact B.O.B. for info on how to remove the patch from the stroller.
Want more info?
You can contact B.O.B. Trailers at
855-242-2245
Monday through Friday between 8:30 a.m. and 5:00 p.m. MST. You can also check the
BOB website
for more info.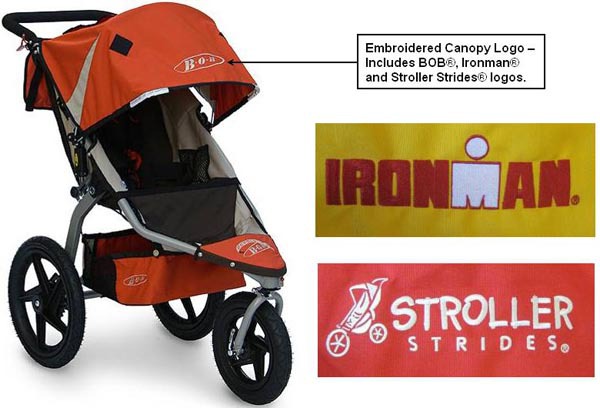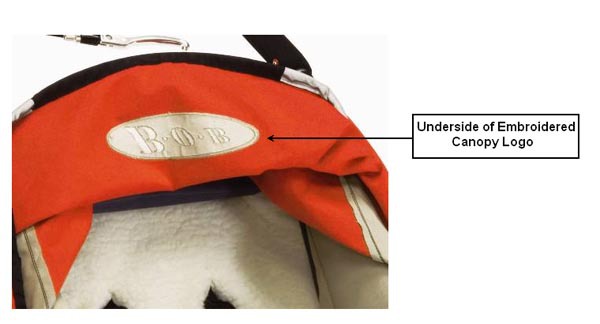 (Images via US CPSC)
More recent recalls:
Recall: Shermag drop-side cribs
Recall: Battat Musical Wooden Toy Table
Two recalls: Little Tykes Toy Workshop and Cars
Recall: Twirlla wooden rattle