An Illinois Woman Accomplished Two Major Feats In One Day: First, The Chicago Marathon And Second, The Birth Of Her Daughter.
An Illinois woman accomplished two major feats in one day: First, the Chicago Marathon and second, the birth of her daughter.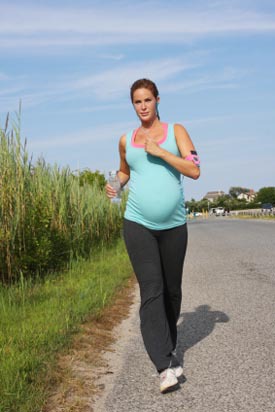 An Illinois woman accomplished two major feats in one day: First, the Chicago marathon and second, the birth of her daughter. Amber Miller of Westchester, Illinois, signed up for the Chicago marathon exactly two days before she learned she was pregnant. Not wanting to forfeit her registration fee, Miller decided to participate in the marathon that took place this past Sunday. Her doctor gave her permission to run half the marathon and walk the other half. And she did! Miller finished with a time of 6:25:50. However, the Chicago Marathon wasn't Miller's only accomplishment for the day. She gave birth to her daughter just seven hours later. Miller had a healthy baby girl, June, who weighed in at seven pounds, 13 ounces. Miller's major accomplishment(s) drew both criticism and praise. Many applauded her for finishing a marathon when she was that pregnant. Others, including some health professionals, cast doubt upon her decision. One commenter, who said he was a practicing pediatrician of 36 years, made his concerns known in the comments section of an article about Miller and the marathon.
Are you people familar [sic] with the concept of a stillborn? Babies not infrequently die in utero right at the end of pregnancy, presumably at times from lack of adequate blood flow to the placenta. I think it is highly irresponsible for any physician to recommend such a long and strenuous course of action at 39 weeks, where blood clearly must be diverted from the placenta to her muscles. No one, I repeat, no one could assure her that this was a safe choice.
Time
ran an article on the safety of participating in a marathon that late in pregnancy. The magazine interviewed Jim Pivarnik, who is a professor of epidemiology and kinesiology at Michigan State University. He has studied exercise during pregnancy for 25 years. When asked whether Miller's decision was irresponsible, Pivarnik, said
This was O.K. for her. She was training that kind of mileage all the way to 38 weeks. She only ran half of it, and her doctor gave her permission. She had no dizziness, bleeding or cramping. It was standard operating procedure for her.
He noted that most women wouldn't be physically able to complete a marathon at the end of their pregnancy, nor should they. Whether a woman is capable of such a thing depends on her and her history of physical activity. He did stress the importance of exercise in general during pregnancy and noted that you shouldn't begin a more strenuous exercise routine after becoming pregnant than what you were doing before pregnancy.
(Source: Time)
More on exercise during pregnancy
Your pregnancy fitness questions answered
Exercise during pregnancy: Tips to stay fit
Exercise tips for pregnancy