The CPSC Issued Two Separate Recalls For Children's Toys. Make Sure These Aren't In Your Home.
The CPSC issued two separate recalls for children's toys. Make sure these aren't in your home.
These recalls aren't specifically for baby items, but your babies might have older siblings and you could have these items in your home. Double check, just to be safe!
Little Tykes Toy Workshop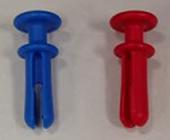 The over-sized plastic toy nails can pose a choking hazard. In 2009, 1.6 million sets were recalled for another issue and now an additional 1.7 million units have been recalled. If your child has this set, immediately take the nails away and contact the manufacturer so you can receive replacements. For more info, see the
CPSC recall notice
.
Toy cars
The toys cars that are part of this recall contain excessive levels of lead that violate the federal lead paint standard. They were manufactured by LM Import & Export, Inc, and sold in Florida. Following is the description of the cars from the CPSC:
The products are sold in packages of four or six toy cars which are painted in silver, black or blue with red stickers with "super," "max" and "racing" labeled on the top and sides of the cars. The 4" plastic car sets have item numbers "43835" and "43836" printed on a white label on the back of the cardboard packaging. "Gallop X" or "RACING CARS" is also printed on the product packaging.
For more info, see the
CPSC recall notice
.