Read Great Birth Stories By Real Life Mamas! In This Installment, We Feature Birth Stories From First Time Moms And Women Who Had C-Sections.
Read great birth stories by real life mamas! In this installment, we feature birth stories from first time moms and women who had c-sections.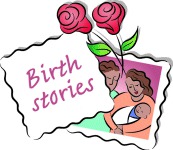 Are you pregnant and curious about the birth experience? While no two births are identical, it can be reassuring, empowering and educational to read about other moms' birth stories. Here are a few to get you started.
First time moms
Quick! Find a hospital!
Brandy, a 21 year old mother from Ottawa, Canada, gave up going into labor on her own when the doctor told her to come back in a week. Little did she know, that was all the prodding her little Victoria needed!
A sweet present
. 22-year-old Crystal from California felt blessed to deliver a happy and fat little boy, relatively quickly and pain free.
A picture perfect birth
. Becca has the best hospital labor and delivery any mom could hope for!
Cesareans
Funny, scary and great
. After being stretched by her doctor, Erika's water broke and labor began. But how will it end? Read this quick birth story from a 19-year-old Rhode Island mom to find out!
A welcomed c-section
. 37-year-old Leigh from Ohio was completely surprised and thrilled by her birth experience.
She wasn't in a hurry to leave her mama's womb.
Though it was not the labor she hoped for (an ineffective epidural, baby getting stuck and an emergency c-section), Stephanie was grateful for the happy ending. Read her story and share her joy!
Do you have a birth story to share? Leave it in the comments section or send it to us!