If you've decided to learn a bit more about your cycle so that you can get pregnant sometime soon, there...
If you've decided to learn a bit more about your cycle so that you can get pregnant sometime soon, there are some great resources online. I actually utilized some over the years that I was trying to get pregnant (and trying to prevent as well). While their analyzation is only as good as the data you put in, they can be pretty reliable tools for helping you track your fertility in hopes of getting pregnant!
Three websites to track your fertility.
My Monthly Cycles
-- This is the first site I used when I started tracking my cycle. I think I ended up here first because of a Google search, and really, I wasn't disappointed with its offerings. I liked some of the interactive stuff, like tickers to post on online profiles.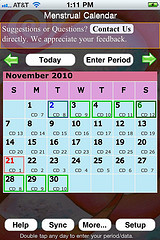 Fertility Friend
-- This particular site is a bit more active and has a few more bells and whistles. Many women populate the forums, comparing their charts and asking questions. I personally switched to Fertility Friend when I found their chart gallery. You can see all kinds of charts, unsuccessful and successful alike, so you can compare your current chart to another woman's chart. Fun. As a bonus, FertilityFriend has an iPhone app (search for Menstrual Calendar) which syncs with the site, so you don't have to login every time you need to update your BBT, cycle or other info.
Taking Charge of Your Fertility
-- Yes, this is the site attached to
the book that I told you to go buy
. As such, it is viewed as the be all and end all of fertility tracking websites. I found the site itself to be less user friendly than Fertility Friend, but will always love Toni Weschler's book, so I gave it a shot or two over the years. Each site offers free tracking with limitations and "premium" tracking which comes at a reasonable price. As I said with Fertility Friend above, there are also some apps that can help you keep track of your fertility signs. Some are free, some are paid. I would suggest that you find one that attaches to an online site as well so that you can see your info on a real screen if need be. I'll repeat that the websites and apps are only as good as the information you put in. The paid accounts will allow you to input more information (cervical mucous, unlimited symptoms, and so on) whereas the free accounts will let you do the bare minimum -- BBT, sex and period. If you'd like to input more information to have a better knowledge of what's going on, I suggest upgrading to a paid account on the site of your choosing.
Did you use one of these sites or another one to track your cycle?