Whether It Is A Push Present, Birthday, Mother'S Day Or Christmas, Jewelry That Is Personalized You'Re Your Children'S Names Or Birthstones Is A Mommy Must Have. From Splurge-Worthy Pieces To Beauty Jewelry On A Budget, Check Out Some Of My Top Pick
Whether it is a push present, birthday, Mother's Day or Christmas, jewelry that is personalized you're your children's names or...
Whether it is a push present, birthday, Mother's Day or Christmas, jewelry that is personalized you're your children's names or birthstones is a mommy must have. From splurge-worthy pieces to beauty jewelry on a budget, check out some of my top picks.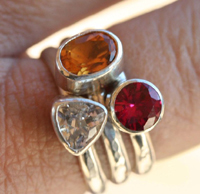 The
Sterling Name Charm Necklace from Suzanne Myers
is a wonderful piece for moms. It features your child's name on sterling charms, as well as their accompanying birthstone. Prices start at $120 for one charm with two stones and $10 more for each additional charm. For a more subtle way to wear mom jewelry, you will love the cool stacking rooms from
Creations By Cat on Etsy
. You can customize your rings by ordering the gems in their birthstones. Prices run around $102 for 3 stacking rings. I actually own the
Nelle & Lizzy double ring
and I love it! It is an overlapping custom stamped bands with your children's names. This works best with two kids, but can be purchased as a single or triple. The names look very subtle (almost like a design) when you are wearing them. Prices start at $72 for the double ring. The
Zoe Chicco Family Charm Necklace
features three disks in 14k rose gold, 14k yellow gold and sterling silver. Personalize with the initials or names of your children for a sentimental touch. Priced at $370.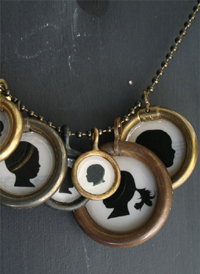 Nelle & Lizzy's "Because Two People" Bracelet
is a customized bracelet that is as stylish as it is special. You can have your children's names stamped onto the charms, combined with their birth stones. Prices are very reasonably priced, starting at $58.
The
custom Silhouette Pendants
are unique and have a cool vintage feel to them. You simply send in a profile photo and they turn your child into a keepsake pendant. They use antique drapery rings for the frames and the image is coated with resin, while the back is covered with vintage paper, such antique sheet music. Prices start at $85 for one child and each pendant is an additional $25. For a more boho look, check out the
Adoration bracelet from Tavia Metal
. These sterling silver bracelets feature your child's name and birth dates on the exterior and you can have a special message inscribed on the interior. You can also customize it to include your child's birthstones. Prices start at $185.