Independent Food Choices Help Kids Eat More Veggies
The baby age is sweet, because most babies who are new to food will try almost anything. As babies turn...
The baby age is sweet, because most babies who are new to food will try almost anything. As babies turn into toddlers though, sometimes changes happen, and your child becomes more picky.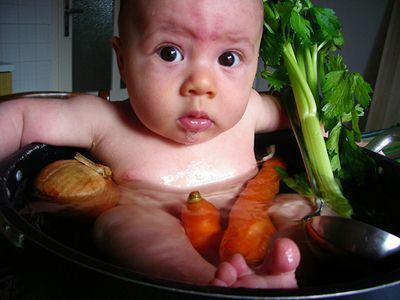 However, the simple act of allowing your child to choose which veggies he or she eats, may make all the difference. According to a study conducted at the University of Granada, children who are given veggie choices and allowed to pick which veggies to eat, end up eating 80% more vegetables than kids who aren't given a choice. I'm not saying that you should cook up, or cut up ten veggies at a time or anything nuts like that, but simple choices, such as placing a plate with carrots and peas on it, and allowing your child to eat the ones she likes, can help. Other ways to turn your child into a veggie lover:
Eat veggies while pregnant and breastfeeding. Research shows that flavor tastes are shaped super early, like in the womb and from breast milk. When shopping allow your little one to choose foods, on her own, from the produce section. I'd insist she try her selection at home, but I wouldn't force it if she tries and doesn't like something.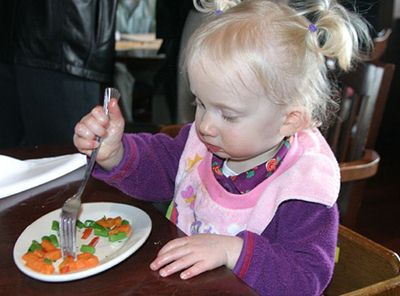 Eat veggies yourself. The most annoying mistake I see parents make is that their child is served a healthy meal, while the parent eats something else. Kids mimic your habits. If you don't eat veggies, why on earth would your child?
Serve veggies early and often - kids' taste buds form early.
Don't hide veggies. Kids need to see real veggies, in their real form. If you're always sneaking veggies into stuff, your child won't know a real food choice if it smacks him in the face.
Don't give up. My friend served almost no veggies to his kids when they were little, because they whined about it. Instead these kids were allowed to whine and served anything to get them to eat. Now, teens, they've turned into junk food, overweight kids. Now their parent has been trying to get them to eat better and it's been a LONG hard battle. Older kids are less likely to just turn into veggie lovers, so stick with it when your child is little. Research shows that some foods must be served as many as ten times before a kid decides it's okay.
Most of all, really give your child choices - including the choice to say no. My son, at age ten, is an insane veggie lover. I never praised him for eating veggies. I just served them. He never got the, "
What a good boy, you ate your veggies!
" speech either. He either ate them or didn't - no punishment or force. I tried to make veggies the exact same as any other food, and never seperated veggies as a "good" food, and candy as a "bad" food. Food is food at our house, and the end result is a kid who eats veggies all the time. Learn more about
how I raised a crazy veggie lover
.
Lead image via superbez; second image via Elizabeth/Table4Five.