Go-Pod - Stylish And Portable Baby Activity Center
While I'm not an advocate of baby jail, I get that once in a while enclosed baby activity center can be useful....
While I'm not an advocate of
baby jail
, I get that once in a while enclosed
baby activity center
can be useful. For example, while you're
cooking dinner
or
taking a shower
. One good choice, if you're looking for an activity center, is the
Go·Pod
. Go-Pod is an ultra lightweight, portable activity seat developed as an alternative to traditional bulky, stationary activity centers.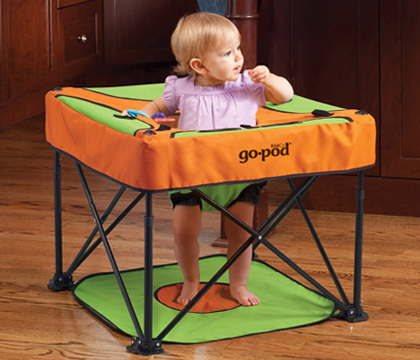 Some of Go-Pod's awesome features include:
Mobility design' makes it easy to use this activity center at home or on-the-go.
Perfect for smaller living spaces.
Offers the same safe fun as stationary activity centers, but with great portability.
Folds up and stores in handy carrying bag with storage pocket for wallet, keys, ipod, etc.
Take it on trips - this center folds up so small and easily that you can even store it in an airplane overhead compartment.
Keeps baby safe and entertained when you need it.
Can be used indoors or out.
A locking button ensures Go·Pod is locked in place and safe for baby.
Handy floor pad keeps baby's feet from touching undesirable surfaces.
Four seat height positions for your growing baby
Drink and snack holders included along with toy loops to hold baby's toys.
Available in Pistachio, Sorbet or Quick Silver.
[gallery] Babies from approximately 4 months to walking may use Go-Pod.
+ Go·Pod