10 Breastfeeding Tips From The World Health Organization
Each year, the World Health Organization (WHO) celebrates World Breastfeeding Week (WBW) with the rest of us. This year, WHO...
Each year, the World Health Organization (WHO) celebrates
World Breastfeeding Week
(WBW) with the rest of us. This year, WHO has gathered a great set of important
breastfeeding tips and recommendations
for mothers and health care professionals.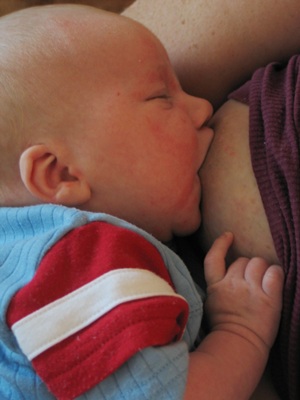 1. WHO's breastfeeding recommendation:
WHO strongly recommends that breastfeeding should begin within an hour of birth and that all mothers
exclusively breastfeed
their baby for the first six months of life. At six months, other foods can complement your baby's diet, but breastfeeding can continue for up to two years or more before
weaning takes place
.
2. Breast milk is best:
Breast milk provides babies with
all the best nutrients they need
for healthy development, plus contains antibodies that help protect infants from common childhood illnesses.
3. Benefits for mothers:
Mothers who breastfeed
reduce their risk of
breast cancer
and ovarian cancer later in life and can help lower their chance of ever becoming obese.
4. Long-term benefits:
Adults who were breastfed as babies often have lower blood pressure and lower cholesterol, as well as lower rates of overweight, obesity and type-2 diabetes then adults who were not breastfed. There's even evidence that adults who were breastfed perform better on intelligence tests.
5. Why not infant formula?
: Infant formula doesn't have any of the antibodies found in breast milk, plus feeding formula concurrently with breastfeeding may diminish milk supply. In other countries formula is linked to some bigger risks, such as water-borne diseases that arise from mixing powdered formula with unsafe water.
6. What about HIV and breastfeeding?:
If a mother is HIV-positive, WHO still recommends exclusive
breastfeeding for the first six months
unless replacement feeding is acceptable (socially welcome); feasible (facilities and help are available to prepare formula); affordable; sustainable for six months; and safe (formula is prepared with safe water and in hygienic conditions).
7. Regulating breast-milk substitutes:
There should be no
promotion of breast-milk substitutes
to parents who can otherwise breastfeed (most women) and no free samples of formula should be given to pregnant women, mothers or their families.
8. Support for mothers is essential:
Health facilities must support breastfeeding!
There should be trained breastfeeding counselors available to all new mothers.
9. Work and breastfeeding:
WHO recommends that a new mother take at least 16 weeks of
maternity leave
after the birth of her baby, in order to be able to rest and breastfeed her child. Workplaces should have adequate places to breastfeed or
express and store milk at work
.
10. When should phasing in new foods start?
: Babies at six months of age
may have complementary foods
but should also
continue to breastfeed
.
See the full 10 facts on breastfeeding slide show
.