World Breastfeeding Week 2011: Breastfeeding - A 3D Experience
It's the 19th year of World Breastfeeding Week, and 2011s theme is pretty hip. This year's theme "Talk to Me!...
It's the 19th year of
World Breastfeeding Week
, and 2011s theme is pretty hip. This year's theme
"Talk to Me! Breastfeeding – a 3D Experience"
, a communication theme of sorts - which means that you and everyone you know should up the breastfeeding discussions that matter to you, and all mamas and babies on the planet.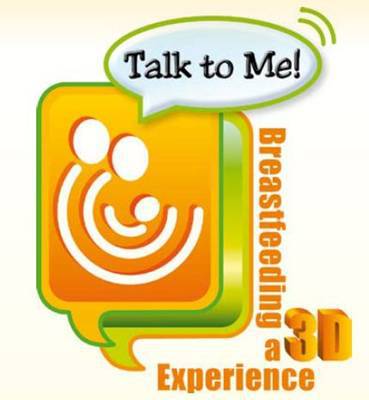 WABA's call to action this year is for celebrants to reach beyond the typical breastfeeding borders, in new ways, and include traditionally un-involved parties, such as young people. From WABA: In association with the United Nation's International Year of Youth, WABA has commissioned a dedicated group of young people to carry out the United Nation's call to action and create awareness, mobilize and engage, connect and build bridges across generations, cultures, religions, and civilizations" on breastfeeding. Why involve youth? Well, youth account for about 18% of the world's population, so youth, is in fact, a valuable population when it comes to any public health movement. Secondly, breastfeeding isn't exactly publicized in a way that reaches mothers and families, let alone the younger generations. It's time that breastfeeding became more mainstream and accessible. According to WABA,
"The "3D" theme is about looking at the dimensions of our lives – things happen at a time and place, but communication is what makes our experiences so robust."
If you're a blogger, writer or other person in the media, you can make a difference by sounding off about breastfeeding. One of this year's major goals is to Encourage the use of new media to reach larger numbers of people with breastfeeding information. If you're a health care professional, you can get involved by discussing breastfeeding with your patients and incorporating communication skills in breastfeeding and health trainings. If you're a mother
keep right on breastfeeding
and talking about it with your peers, partner and children. Breastfeeding should be a norm, not an obscure act.
NEVER come down rudely
on mama peers you have problems breastfeeding. Instead
offer support and communication
. You can also make plans to
attend a Big Latch On Event
near you.
Download the World Breastfeeding Week 2011 Action Guide for FREE
(pdf)