Circo Child Booster Seat Recall Expanded
Target has expanded a 2009 recall of booster seats due to new reports of falls. The product, Circo Child...
Target
has expanded a 2009 recall of booster seats due to new reports of falls.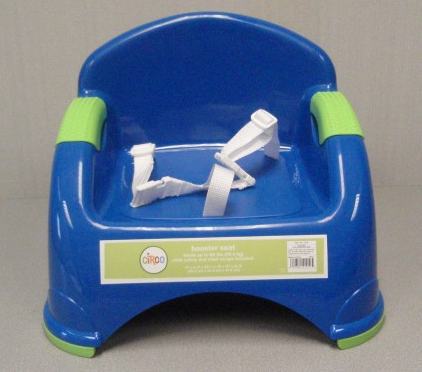 The product, Circo Child Booster Seats were first recalled in 2009, but only 43,000 of them. This new recall includes about 375,000 of the booster seats. I guess there must be a bunch of these seats floating around the country still, even though they were only sold at Target stores nationwide from January 2005 through June 2009. They sold for just $13, which may be why so many are still out there.
What's the problem?:
The booster seat's restraint buckle can open unexpectedly, allowing a child to fall from the chair and be injured. Target has recently received 10 additional reports of booster seat buckles opening unexpectedly, including three reports of bumps and/or bruises when a child fell forward out of the booster seat, hitting an object or the floor.
If you have one of these seats:
You should immediately stop using the recalled booster seat and return it to any Target store for a full refund. For more info you can contact Target at (800) 440-0680 between 7 a.m. and 6 p.m. CT Monday through Friday, or visit the
Target website
.
Expanded description
: The expanded recall involves all Circo Booster Seats, including those sold as early as 2005. The plastic booster seats are blue with green trim and a white plastic restraint buckle. They attach to an adult chair to boost a child to a table. "Circo" and "Booster Seat" can be found on a green label located in the front of the booster seat.