Organic Applesauce A Must For Babies - 98 Percent Of Apples Contain Pesticides
It's no shock that kids who eat plenty of fruits and veggies are healthier than kids who don't. However, if...
It's no shock that
kids who eat plenty of fruits and veggies
are healthier than kids who don't. However, if the bulk of the veggies you give your kids are conventional vs.
organic
, you could be serving up a whopping helping of pesticides with that healthy produce. Especially, if your little one loves applesauce.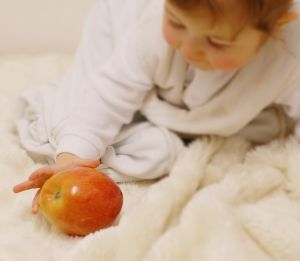 Environmental Working Group (EWG) has just released their 7th edition
Shopper's Guide to Pesticides in Produce
. As always, EWG highlights the worst offenders with their "Dirty Dozen" list, and this year apples are the worst. The Dirty Dozen list are the 12 produce items that contain the largest concentrated amounts of pesticides. Thus, the dirty dozen list are fruits and veggies you should always buy in organic form - especially for your growing baby.
This year, the USDA and EWG notes that
pesticides
were found in more than
98% of the 700+ apple samples
tested. Those pesticides go right to your baby and may harm his development. Other vegetables and fruits with LOTS of pesticides include:
Apples
Celery
Strawberries
Peaches
Spinach
Imported Nectarines
Imported Grapes
Sweet Bell Peppers
Potatoes
Domestic Blueberries
Lettuce
Kale/Collard Greens
You should always buy the produce above in organic form. Organic fruits and veggies are safer and free from icky pesticides, chemicals and
fake artificial colors
. Whenever you can, be sure to buy organic baby food. Better yet,
make your own organic baby food
. Most baby food on the market is
full of sodium
; organic or not, homemade is healthier.
Learn more: