Swimming Pool Safety For Pregnant Women
Jumping into the pool is a healthy pregnancy move. Water fitness is low impact, but still a great way to...
Jumping into the pool is a
healthy pregnancy move
. Water fitness is low impact, but still a great way to
burn calories
. The water is very relaxing, can relieve pregnancy back pain and let's face it, a great way to cool off when it's hot. That said, make sure you keep safety in mind when swimming.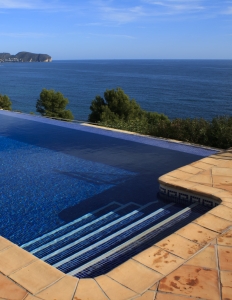 1)
Check with your prenatal care provider before starting any sort of major water fitness routine.
2)
Stay hydrated
. With all that water around, it's likely you feel extremely hydrated. However, in reality, swimming, like any other exercise, can cause you to sweat and loose fluids. Make sure you drink before and after a water workout - and during if you need to.
3)
If you're swimming outside, make sure you're wearing sunscreen, and reapplying it every two hours.
4)
Skip the after-pool hot tub and sauna during early pregnancy.
5)
Wear slip proof shoes around the pool. It's easy to
take a tumble
on slick surfaces even when you're not carrying around extra baby weight. Don't fall and get hurt -
slip-proof shoes
are easy to find and wear.
6)
I think it goes without saying, but save the fancy diving for times when you're not preggers.
7)
Follow basic exercise safety precautions. Watch your energy level while in the pool. Being out of breath and tired out of the water is no picnic, but you for sure want to be alert and careful while in the water. Water fitness can wear you out, so be aware.