Yes, it's fun to celebrate your baby's first Christmas, but it's wise not to go overboard. For one thing, it's...
Yes, it's fun to celebrate your
baby's first Christmas
, but it's wise not to go overboard. For one thing, it's insane to spend much money on gifts. Why?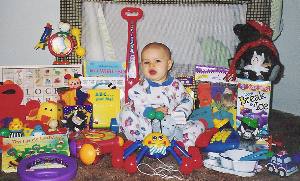 Your baby doesn't care - and if that sounds cold-hearted, then fine, but he REALLY doesn't care. It's way cooler to save money for other things, because raising a baby is expensive enough as it is. Other people like to spoil babies - if you have any sort of family or friends, they'll buy
way too much stuff for your baby
. So much, you really won't need to get a bunch of gifts. It's a slippery slope - why start your baby off on a path that's made up of stuff? Babies are happy and content with your attention and a laundry basket. If you spend a ton of money on baby's first Christmas, it sort of sets up expectations for all the years to come. Why not celebrate in a more family-minded vs. gift-minded way? That's an excellent habit to start early. You don't have to spend a lot - choosing one or two excellent, eco-friendly and safe baby toys is better than piling tons of cheaper plastic and toxic toys under the tree. You can even get very
nice green baby goodies
for much less than you'd think. Going homemade is special - if you really want to make an impact,
make your baby a gift
. Sure, he's still too young to care much, no matter if you buy or make a gift, but you'll know and this will be a gift to keep for years. Later, after your baby gets older, he will find it special that you made him something.
How many gifts are you planning for your baby this year?