Easy As Pie Homemade Organic Baby Applesauce
It's fall, and organic apples are 100% fresh and in-season. If you eat the peel, apples are a great source...
It's fall, and organic apples are 100% fresh and in-season. If you eat the peel, apples are a great source of fiber plus offer vitamin C and just 95 calories per whole apple, which makes a crunchy sweet apple the perfect low-calorie snack for a busy mama. Apples also make a great fresh fall snack for your baby if
he's started solids
, however, you're going to have to loose the peel (yup choking hazard).
Homemade baby food
really is as easy as pie and
better than store-bought
. Below is a delicious recipe for easy and healthy homemade organic baby applesauce.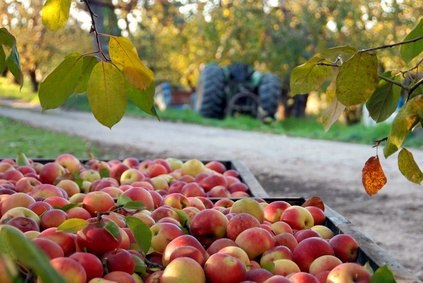 You can make
baby food in a pot
or your
baby food maker
. In fact, you could even make super simple baby applesauce by cooking, then
simply mashing up your organic apples
. But I digress. To make yummy
organic
applesauce you need...
2 pounds of organic apples. You can try mixing apple varieties to produce new subtle flavor differences if you like.
1 organic lemon (you won't be using the whole thing, so plan for another lemon dish as well).
1/4 teaspoon ground cinnamon.
1/2 cup water
To make:
1. Wash your apples and lemon very well. 2. Peel and core your apples. Then chop your apples into chunks. No need to cut little pieces, 8-10 chunks per apple is good. 3. Peel two or three very thin strips of lemon peel from your lemon using a veggie peeler. 4. Place apples, lemon peel, cinnamon and water into a pot. 5. Allow the mixture to come to a boil. Reduce to simmer. Cover and allow it to cook for about a half hour, or until apples are very soft - they should be soft enough to mash with a basic fork. If the mixture seems too thick as it cooks down, add a bit more water, but not too much. 6. Remove from heat, allow it to cool a little then use a spoon to get the lemon peels out. 7. For younger babies blend until pureed. For older babies allow a little texture (don't blend so much). 8.
Freeze any extra
. You can serve this warm or cool. Also, it's very easy to double and freeze a bunch at once. You can also mix this with baby cereal for a heartier meal.
Other awesome fall baby food creations you can make fast:
Image
© Anthony Hall