The Second Trimester Can Be The Best Part Of Pregnancy - Minus A Few Snags.
The second trimester is just about perfect for most pregnant women. Unlike the first trimester you're not so shocked about...
The
second trimester
is just about perfect for most pregnant women. Unlike the
first trimester
you're not so shocked about your pregnancy and usually there's no more morning sickness. The second trimester can also be a lot more fun than the
third trimester
because you're not quite so huge and there's no
about to pop feeling
plus you're still far enough away from the birth to relax. That said, while the second trimester can be easier than the other two, there are also
some problems
that may come up, such as...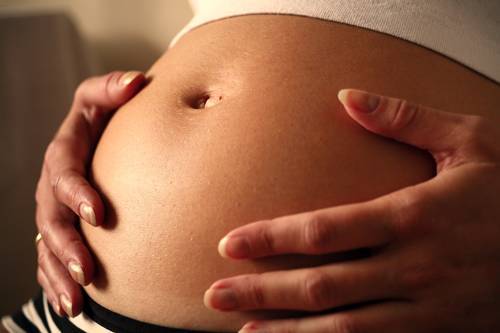 Sleep issues
: As your baby grows you may become uncomfortable, especially at night. An excellent body pillow can help you
sleep better
, as can a relaxing nighttime routine. Try to avoid sleeping on your back because this can put pressure on your
vena cava
(a vein) which can reduce your blood flow.
Gas
: Fun! I mean, ick. Progesterone, which increases during pregnancy, slows the digestive process and can cause gas. Gum chewing and eating too fast can cause more gas, due to you swallowing air, so avoid both if possible. Also avoid
commonly known gas-inducing foods
like broccoli, beans, fried foods, artificial sweeteners, cabbage, apples, peaches, excess dairy, onions, asparagus, corn and prunes.
Leg cramps
: Leg cramps often start up in the second trimester and continue into the third. You can seriously cut down on the leg cramps you experience by performing
leg stretches
before bed nightly. Avoid sitting or standing in one position for too long and overload on fluids (something you should be doing anyhow).
Massage
may help as well.
Also see: