Fun Pumpkin Baby Food You Can Make This Halloween Season.
Making your own homemade baby food is much easier than you might think and it's healthy to boot. Especially in...
Making your own
homemade baby food
is much easier than you might think and it's healthy to boot. Especially in a season full of candy and cakes it's smart to stick to
baby-safe
, healthy foods not junk. Additionally, pumpkin is
chock full of healthy vitamins
your baby needs, and it tastes great too.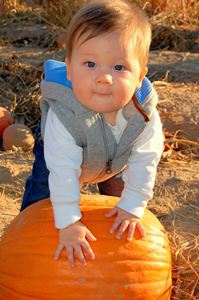 Notes to remember when making pumpkin for baby:
If your baby is eating solids you can serve pumpkin. Just make sure it's the right size and texture for your baby's age.
Use organic pumpkin when possible.
If you cook your own pumpkin and it's too stringy, you're likely not cooking it long enough OR you're scooping out the pumpkin too close to the shell.
If you use a pumpkin puree, make sure it's NOT pumpkin pie filling. You want unsweetened, spice-free puree to start with. You can add spice yourself.
Always follow baby food safety tips.
Ideas:
If your baby is a self-feeder now, try some adorable and yummy
pumpkin pancakes
. Make easy as pie pumpkin oatmeal. Simply mix 1/4 cup oatmeal, 1/4 cup
organic pumpkin puree
and 1/4 cup
organic applesauce
. Mix this to the
correct texture
. Add a dash of cinnamon and serve. Baked pumpkin slices are a great treat, sort of like candy sweet potatoes, but not so sweet. Cut small slices of pumpkin and place onto a prepared baking pan or dish (lightly oiled). Sprinkle a tiny bit of melted butter and some brown sugar over the slices. Add a dash of nutmeg if you like. Bake in the oven at 325 degrees for about 20 minutes. Turn the slices over and add butter, sugar and spice to the other side of the slices. Bake for another 20 to 30 minutes. This is a good treat for self-feeders but you should make sure it's baked super soft.
More ideas: