A New Study Says That Some Alcohol During Pregnancy May Be Safe - But Do You Really Want To Risk It?
You may have recently seen a story about how alcohol is actually safe during pregnancy making the rounds. The news...
You may have recently seen a story about how alcohol is actually safe during pregnancy making the rounds. The news comes from a new study from researchers at University College London, in London, and notes that minimal drinking, as in one to two drinks a week during pregnancy, may not actually harm a developing fetus.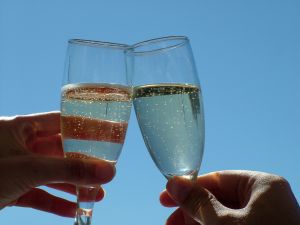 Well... here's what I think.
One, this study relied on the mother's word. The researchers interviewed mamas, took their word about how much they were drinking, and then came up with their conclusions. I think we can all agree that word of mouth science is not so scientific.
Secondly, Dr. Ron Jaekle, a professor of clinical obstetrics and gynecology at University of Cincinnati Health points out a major problem with this study, "Our population is much more heterogeneous and we have certain populations, for example American Indians, who have an enzyme deficiency that causes them to be much more strongly affected by alcohol, so even light drinking may be harmful."
Thirdly, no matter what you hear, this new study hasn't changed the minds of any major health organizations. The March of Dimes, for example, still recommends no alcohol during pregnancy.
Basically what it comes down to is this. While some people may be happy because this study gives women the green light to have a couple of drinks during pregnancy, is it honestly worth the risk? When you're pregnant you absolutely need to weigh every action you take with any associated risks, and when it comes to alcohol, we do know that there are substantial risks to drinking while pregnant. Everything you ingest
crosses the placenta
and that includes alcohol. Drinking during pregnancy has been linked with an
increased risk of leukemia
, major
birth defects
,
pre-mature labor
and more. Not to mention
alcohol is empty calories
. Why stock up on calories you don't need? I agree with Dr. Michael Katz, senior vice president for research and global programs at the March of Dimes Foundation who says,
There are no precise measures of alcohol intake. It's a ridiculous argument. There is no logical reason why anyone could not stay away from alcohol for nine months.
" Indeed! Is there any reason on earth you can't avoid alcohol for nine months? For the safety of your baby? This new study may say it's safe to have a couple of drinks, but long-time research suggests that we don't actually know the safe level of alcohol during pregnancy, so why not skip it? Better safe than sorry, especially when the possible consequences are 100% avoidable AND when you have
perfectly safe non-alcohol drinks
at your disposal. This new research will be published in the Journal of Epidemiology and Community Health.
*Source