Most Traditional Halloween Treats Are Not Safe For Little Ones. Make Sure Your Baby Or Toddler Only Gets Safe Halloween Treats.
An important part of having a baby-safe Halloween is choosing the right treats. Now, of course if your little one...
An important part of having a
baby-safe Halloween
is choosing the right treats. Now, of course if your little one is very young, he should only be enjoying breast milk this Halloween. However, for
babies eating solids
, along with toddlers, a little Halloween treat won't hurt, so long as you play it safe.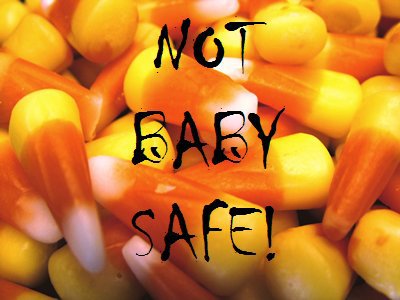 NOT SAFE FOR LITTLE ONES:
Hard candy, lolly pops, candy corn, or any other small candies.
Popcorn or popcorn balls
Sticky candy such as taffy or caramel.
Gummy candy like gummy worms or gummy bears.
Chocolates filled or covered with nuts, peanut butter, or honey.
Pumpkin seeds.
Whole caramel or candy apples.
All of the above Halloween treats pose a
serious choking risk
for little ones. So do many of the wrappers. If you have older kids, you need to be extra sure that all of their candy is kept up and out of reach and make sure that your older kids throw their wrappers away. To be even safer make sure that you read –
How to help a choking baby
.
SAFER HALLOWEEN TREATS FOR LITTLE ONES:
Organic apple juice or warm apple cider or organic juice boxes.
A fresh Halloween smoothie served with a spoon.
Soft Halloween pumpkin cookies or Halloween cupcakes (without candy on top) a little frosting is okay.
Kids older than one year may have a little chocolate, such a small bite sized chocolate bar, but that chocolate should have NO nuts, fruit, or other add-ins that could cause choking.
Package of animal cookies.
Pumpkin shaped pancakes.
A scoop of ice cream.
After treat time, remember to always
brush your baby's teeth
. Just because a treat is safe doesn't mean it can't cause cavities.