How To Choose The Best Fun And Safe Halloween Costume For Baby.
Halloween is quickly approaching. I know, it's just September, but if you don't find the best baby Halloween costume early,...
Halloween is quickly approaching. I know, it's just September, but if you don't find the best
baby Halloween costume
early, you could be out o' luck. Especially if you like to shop online, because online Halloween shops can take a while to ship costumes out. Before we get to into the whole, let's find a costume issue this year, we should take a look at how to choose a safe baby Halloween costume.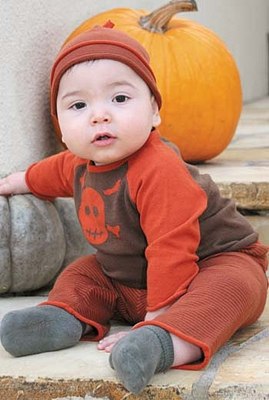 Here's how to choose a fun and safe Halloween costume for your baby.
Go fun first - Halloween second
: Yes, Halloween is super fun, but not all babies are down with wearing a Halloween costume. Do you want this first Halloween to be fun or full of tears? If you said fun then don't force a costume on your baby unless he's okay with it. No matter how adorable that little pumpkin hat it, no one will have a great time if your tot's trying to rip it off. For a costume-shy babe, a cute romper or tee will work, such as the
Skull Baby outfit
shown above.
Go warm
: Right now it's likely balmy early fall weather where you live. Don't forget though, by Halloween, it's going to be brisk and chilly outside. Choose a warm Halloween costume for your baby. This is especially important if your baby is going along when you take your older kids trick or treating. A costume with long legs and sleeves can help keep your baby warm. A Halloween knit hat is also a good plan. If you'll be attending a Halloween party inside, don't go as warm and make sure you can shed layers if your baby gets too warm.
Go bigger than you need now
: It's only September, but babies grow super fast. If you buy a costume a month early, it could be too small by Halloween. It's smart to prepare for Halloween early in my opinion, so just get a costume that's a little bigger than your baby is now.
Go safe
: Long strings, small buttons, patches that come off, weird decals, a loose cape and other removable parts can all pose a baby safety hazard. Babies can choke or become entangled easily in a bad costume.
Go bright
: If you're taking your toddler out trick or treating for the first time, choose a brightly covered costume in case said toddler decides to take off running.
Go comfortable
: Your baby needs to be able to move, crawl or walk easily in his costume. Also, get a Halloween costume made with non itchy material and if possible one that's tag-free.
Go drama-free
: Make sure you find a costume that makes diaper changes easy. Consider a costume with NO hat or hood because in my experience, this is usually the part of the costume most babies hate. If you do get a costume with a hat or hood, it should be removable. A machine washable costume, of course, is a huge perk.
What sort of costume have you been thinking about getting your baby for Halloween?