Gisele Bundchen Says Breastfeeding Should Be Required By Law And Parents Everywhere Freak Out.
Supermodel Gisele Bundchen recently had a foot-in-mouth moment, noting that there should be a "Worldwide law" that requires all mamas...
Supermodel Gisele Bundchen recently had a foot-in-mouth moment, noting that there should be a "
Worldwide law
" that requires all mamas to breastfeed "
Their babies for six months
". Gisele, who gave this bold statement in a recent interview with Harper's Bazaar UK, has since made a public apology for her statement, which frankly, irked a ton of mamas and other breastfeeding advocates.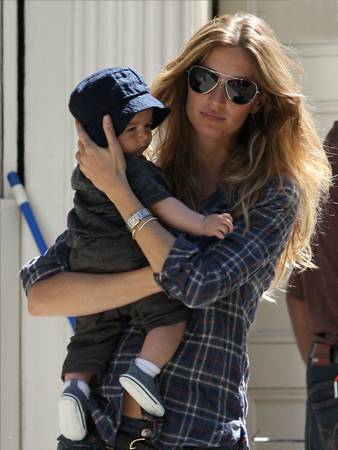 Why the fuss?
It's all good and fine to be seriously aboard the breastfeeding train. In fact, I highly recommend every mama at least
give breastfeeding a try
before
giving a bottle
. The major problem with Gisele's comment is that no, breastfeeding shouldn't be a "
Worldwide law.
" Like vaccines, like circumcision, like education and all the other parenting choices we face, breastfeeding IS A CHOICE. As I've said time and time again, not all parents walk the same path. To assume as much places serious pressure and unrealistic expectations on all mamas. Gisele's comment resulted in a massive mama attack against her comment at US magazine's Web site, managed to upset pretty much the entire parent-blog community and even angered breastfeeding advocacy group La Leche League International. La Leche League Executive Director Barbara Emanuel responded to the issue in a
New York Post story
, advocating a more moderate approach, "
One mother doesn't have to be wrong so that another mother can be right," Emanuel says. "There are lots of choices out there, and La Leche League respects those choices.
"
What's next?
Gisele has backed down,
apologized
, saying, "
My intention in making a comment about the importance of breastfeeding has nothing to do with the law. It comes from my passion and beliefs about children,
" and likely won't be giving parenting advice again anytime soon.
What I think:
Of course I think parenting choices, including breastfeeding, are just that - choices. Some mamas breastfeed, some don't. What really matters is that we try to make the healthiest choices possible for our babies and us, with the resources we have. Still, I do think people are coming down a little hard on Gisele. She's
not the first mama
to make an
annoying comment
. She won't be the last. I think her passion (and quite possibly hormones) got the better of her. And, really, should we judge her too harshly? I hear comments from mamas I know all the time saying other parents, "
SHOULD DO
" this or that. Really - take a look at the comments parents left on
this circumcision post
or
this vaccine post
right here at P&B. Once we have kids
we all like to give advice
, and that advice is often based on personal choices and experiences. Any parent (self included) who says, "
I never tell other parents how to parent
" is not being very honest.
We all do it
- think about the things other parents say to you. That said, I think we should ease up on Gisele, who is just now finding her way as a parent,
worry about our own interactions
with other parents and allow this to die down.
What do you think of the whole Gisele breastfeeding controversy?
[image via Splash photos]