Playtime Can Shape Gender Roles. Make Playtime More Fun For Both Baby Boys And Girls.
Mamas and dads play with their child differently. New research suggests that those difference may help shape a child's view...
Mamas and dads
play with their child
differently. New research suggests that those difference may help shape a child's view of what is masculine and what is feminine.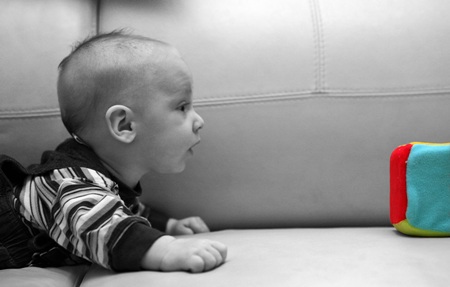 The new research comes from an analysis of videotaped interactions -- shot as part of the U.S. National Institute of Child Health and Human Development Study of Early Child Care -- from among 80 families living in two small Kansas cities. In the videos, parents played with their kids for 15-minute sessions or gave their child a snack 10-minute sessions. Various groups of parent-child teams were looked at: mother-son, mother-daughter, father-son and father-daughter combos. During playtime, fathers were found to be more assertive, while mothers were more cooperative and helpful. These difference, the researchers say, will likely be noticed and picked up by little ones over time and may shape
gender roles
. Assertiveness may end up being viewed by youngsters as a male trait, while compliance and flexibility may be seen as female qualities. The authors state, "
Such differences may teach children indirect lessons about gender roles and reinforced gender-typed patterns of behavior that they then carry into contexts outside of the family.
" It may be useful as a parent to pay careful attention to
how you play with your child
. Assertiveness and flexibility are both
useful traits for girls and boys
, not simply one or the other. Other ways to help create an open environment, where boys and girls aren't divided...
Make decisions as a family, without one parent dictating everything that happens.
Both parents should engage in various chores. If moms do all the cooking and dads do all the fixing, it's not setting kids up to see that anyone can do anything.
Buy toys for both genders, i.e. dolls and cars.
Never put down an activity as boy or girl related. Boys can take ballet. Girls can play baseball.
Parents should deal with gender disappointment head on. It happens, but shouldn't mess with your parenting groove.
*Source