This Book Designed To Help You Budget For Your Family; No Matter Your Financial Or Marital Situation And No Matter How Old Your Kids Are.
I read Expecting Money: The Essential Financial Plan for New and Growing Families a while back but realized that I...
I read Expecting Money: The Essential Financial Plan for New and Growing Families a while back but realized that I never posted about it here, which is too bad because if you have a baby or growing family it's a must read
money saving
book.
Book:
Expecting Money: The Essential Financial Plan for New and Growing Families
(Paperback) by
Erica Sandberg
Cost: $15.95.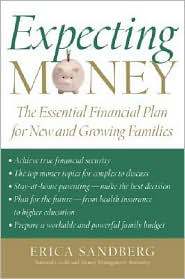 Basics:
This book designed to help you
budget for your family
; no matter your financial or marital situation and no matter how old your kids are.
Below is Sandberg's website description of the book:
"No matter how much you earn, own, or owe, having children will dramatically alter your financial picture. Whether you're thinking of expanding your family, are pregnant now, or have recently had a baby, Expecting Money: the Essential Financial Plan for New and Growing Families will help you prepare for the economic demands of parenthood. From setting a financial start line to developing a comprehensive new budget, you can build lasting security with the techniques outlined in this guidebook that is designed specifically for the most important time in anyone's life – beginning a family."
Erica Sandberg is a nationally recognized credit and money management authority and this book proves it, providing great guidance for busy parents; even if you've never made a budget before. This book is comprehensive and perfect for all types of family situations.
Covered topics include:
Prioritizing baby and maternity costs to obtain desired items and reduce waste
Identifying and refining money values to spend and save effectively
Crucial financial issues to discuss with a partner and how to resolve differences
How single parents can overcome pressing economic concerns
Employee benefits, and legal issues for pregnant and new-parent employees
Managing fertility treatments and adoption expenses
Determining if going from two paychecks to one makes sense
Finding the best childcare options for baby and budget
Income opportunities, from alternative schedules to creative employment choices
Planning for education, homeownership, family vacations, and other long-term goals
Perks I enjoyed included:
Logical time-line of information
. The book opens with a couple of chapters that help you understand how basic financial issues work, which money matters should concern you personally depending on your situation, and how to figure out where you are now on the path to financial security and success. The book then moves on the pregnancy money issues, then
baby money issues
, child care and so on.
Relationships + finances are covered
: The book not only covers financial situations but how your spouse or partner dynamics weigh in. There are also money solutions for single parents which rocks. Most family budget books I've read leave out single parents and being a single parent myself it's awesome to see an entire chapter devoted to this financial experience.
Consumer issues included
: One thing I liked about this book was the coverage given to consumer choice. I'm big on consumer choice as a money saving issue and this book dives into this with topics like marketing to parents and pressure to buy products when really it's unnecessary.
Look to the future financial goals:
The second to last chapter, "Making It Happen" covers all sorts of ways to manage your future finances. Big issues like life insurance and planning for emergencies are covered but so are some fun things like vacation savings.
Budget planning help:
The last chapter is a totally easy how-to about planning your family budget. From setting goals, to tracking expenses, to crunching numbers, this chapter can help just about anyone plan for a more successful budget. I'd give this book 5 out of 5 stars. It's positive and upbeat without being one of those lame, "BUILD WEALTH NOW!" sort of deals. This book isn't preachy but practical with easy to follow plans and goals that I think should be easy for even non-financial types to implement. Check out
Expecting Money: The Essential Financial Plan for New and Growing Families
at Amazon or see if your local library carries it.