How Toxic Are The Baby Care Products In Your Cupboard?
Here's a helpful Earth Day tip for everyone with a new (or older) baby to care for - most baby...
Here's a helpful
Earth Day
tip for everyone with a new (or older) baby to care for - most baby care products on the market aren't all that safe but you can learn how to choose better, greener,
non-toxic baby care products
with just one little scoring website.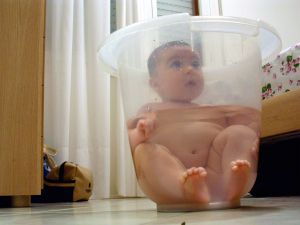 Many conventional store-bought bath and body care products for your baby are full of things your tot sure doesn't need (pesticides, chemicals, fake colors, and more). You want to look for products that are organic and toxin-free - especially if you're going to be putting said products on your baby's skin. Back when we were holding the
Earth Mama Angel Baby giveaways
, Liz, blog coordinator for Earth Mama Angel Baby, sent me the following challenge that will help you figure out what's safe and what's not.
The Earth Mama Angel Baby What's Your Score? Challenge
1.
Gather some of the most common personal care products you use regularly on yourself or on your baby. Personal care products include shampoo, lotions, soaps, diaper cream, stretch mark oil, etc.
2.
Go to the
Skin Deep database
and enter a product name in the search field. Let's say we're going to enter
Johnson & Johnson Johnson's Baby Shampoo
. Once you enter this product you'll get a score - in this case a 5, which means the product poses a moderate risk to your baby. You'll also be able to see what negative issues this product is linked to. In this case J&J baby shampoo is linked to: Cancer; Developmental/reproductive toxicity; Violations, restrictions & warnings; Allergies/immunotoxicity; and other stuff like, Neurotoxicity, Organ system toxicity (non-reproductive), Miscellaneous, Irritation (skin, eyes, or lungs), Enhanced skin absorption, Contamination concerns, Occupational hazards. You can also check their animal testing policy. In this case the company does test on animals. 3. Now that you have your score you can decide if Johnson & Johnson Johnson's Baby Shampoo is really something you want to use on your baby. OR you may decide to go with a product with a better score such as
Earth Mama Angel Baby shampoo
which has a score of 0, the safest score you can get.
To continue with the challenge
: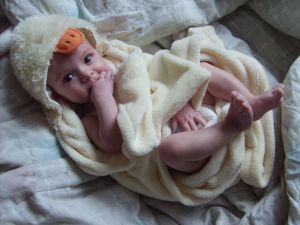 Add up the Skin Deep toxicity rating for all the personal care products that you use for your baby on a daily basis to find out what your score is. When you have your total score, consider the following questions…
What was your Skin Deep toxicity rating score?
How did you feel about your score and/or ingredients?
Were you surprised at how high the toxin score is for any products labeled "natural" or "organic" ?
I think you'll be surprised at how toxic most bath and body care products are, even those labeled "green, natural, or safe" On the flip side,
Earth Mama Angel Baby
products all score 1 or less (that's an excellent rating on Skin Deep). All the more reason to try some of their products. Other baby products that score well (meaning they're baby-safe) at Skin Deep include...
How toxic are the baby care products in your cupboard?