Raise A Happy And Green Baby.
Raising a green baby is healthy for your babe, healthy for your home, healthy for the planet and saves you...
Raising a green baby is healthy for your babe, healthy for your home, healthy for the planet and saves you money - a huge perk for shell shocked new parents. Best of all going green is not that tough. Here are ten easy tips for raising your baby green, healthy, and happy.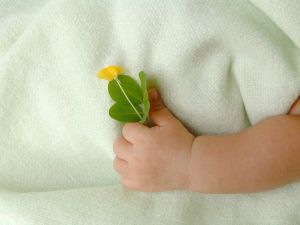 1) Breastfeed
:
Breastfeeding
is one of the greenest baby care choices you can commit to. Breastfeeding is free from excess supplies and waste (bottles, formula, nipples, etc). Breastfeeding is also a low cost ultra healthy way to feed your baby.
2) Co-sleep
:
Co-sleeping is controversial
but co-sleeping is also green. Co-sleeping eliminates extra furniture and bedding plus co-sleeping can help facilitate green choice number 1 – breastfeeding. Also, if you're raising baby green you really need an
organic crib mattress
which is costly - with co-sleeping you save money.
3) Buy less junk
: Babies need surprisingly little to survive. At the very least they need food, shelter, and if they travel a good car seat. But honestly, most of the stuff marketed to parents is totally unnecessary.
Buying less junk
means less stuff in the landfills, saved energy, and more cash in your pocket.
4) Choose organic baby care products
: Conventional baby care products can contain chemicals and pesticides that sink right into your baby's skin and are released into our air, water and soil. You can choose 100% safe and organic baby care products with ease - take a look at
Earth Mama Angel Baby
or
Little Angel
or
Baby Bear Shop
.
5) Make homemade organic baby food
: Once your little one starts solids,
organic homemade baby food
is the freshest, least wasteful, healthiest way to go. Even
store bought organic baby food
is no competition for homemade. Even better, homemade baby food saves you cash big time and is so much easier than you might think.
6) Cloth diapers
: Ok, this is actually not the easiest green step - BUT only at first. There's a cloth diaper learning curve for sure, but once you get the hang of it,
cloth diapering
is green and easy. Cloth diapers eliminate literally thousands of disposables that will end up in the landfill. Plus, cloth diapers can save you an insane amount of money. To learn more about green baby care check out
HAPPYBABY: The Organic Guide to Baby's First 24 Months
.Also see how to
green your baby shower
!