March is National Nutrition Month sponsored by the American Dietetic Association so for the remainder of the month, I'll try...
March is
National Nutrition Month
sponsored by the American Dietetic Association so for the remainder of the month, I'll try to post some important baby and mama nutrition info daily; starting with getting your baby off on the right track right away.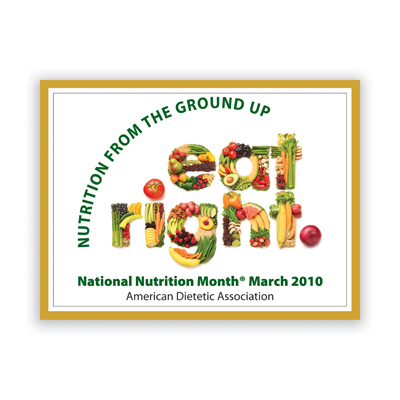 Good nutrition is super important from the moment you welcome your baby to the world. According to the American Dietetic Association (and countless other health organizations) the choices you make when feeding your baby can have a lifetime impact on your child's health and weight. For example, research shows breast feeding can reduce the risk of ear infections, stomach viruses and childhood leukemia. Healthy eating early on also increases your child's chance of having a healthy weight later in life. All babies are unique and their diet plan should be discussed with a pediatrician. However, in general, you can follow the American Dietetic Association suggestions for a
healthy eating time-line for the first year
...
Birth to 6 Months: Babies get all the nutrients they need from breast milk for the first six months. Infant formula is an acceptable alternative when mothers decide to decrease or discontinue breast feeding. You should not give your baby cow's milk until after age 1.
By 4 to 6 Months: While most babies are ready to eat solid foods now, they will continue to get most of their calories, protein, vitamins and minerals from breast milk or infant formula. Introduce iron-fortified infant cereal like rice and barley or pureed meats to help replenish iron reserves.
By 6 to 8 Months: This is an appropriate time to begin pureed or mashed fruits and vegetables. Gradually introduce single-item foods one at a time. Watch carefully for any reactions such as diarrhea, vomiting or unusual rashes.
By 7 to 10 Months: Babies are usually ready to begin feeding themselves with finger foods, such as dry cereal or teething biscuits. They also can begin to use a cup for water.
By 8 to 12 Months: At this stage, most infants are ready for soft, raw or cooked table foods. This includes finely chopped meats and egg yolks. To reduce your risk of food allergies, delay introduction of egg whites, fish, peanuts and tree nuts.