You can simply read to your baby or you can make sure that reading time is FUN for your baby....
You can simply read to your baby or you can make sure that reading time is FUN for your baby. There is a difference. Babies who are read to regardless of how you do it will be exposed to books, and that's a good thing, but if you also aim to make reading time fun, then there's a better chance your baby will actually enjoy books and reading time.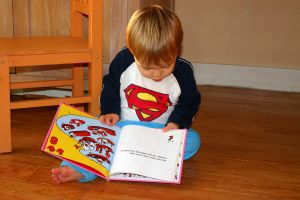 Tips for making reading time fun...
While your little one is still interested in eating, rather than reading books offer her books she can safely nibble. There are plenty of baby-proof, rip-free, fabric and soft plastic books out there and it'll be less stressful for you if you don't have to worry about her ripping pages. Read early and often, but don't force your baby to sit still and listen. Babies don't always love sitting. Your tot can gain just as much from books if you read as she plays with a toy. Look at books; don't simply read. It's ok to flip through a book and just talk about it with your baby or toddler. Ask questions about the pictures or place your finger on a picture or word and say it. Read beyond her level. I've never limited the age of books I've read to my son Cedar. If he picks out a book 'meant' for younger or older kids, I don't argue. He loves books for many age groups. Deal with repeats. Your baby will fall in love with certain books and you should read them over and over if that's what she wants. The first word Cedar ever recognized and pointed out on his own was a hard word — "Harold" which is likely due to the fact that as a toddler he made me read Harold and the Purple Crayon about 1,345 times. Go to book events. See if your local library offers a reading hour. Go to fun bookstores with a great playful kid's reading area. This allows your child to see that books are everywhere, not just at home. Plus this is a fun social activity for both you and your baby. Store books at your child's level. I'm pretty chill and we don't have all that many rules at my house but since Cedar was a baby I have stressed that he doesn't hurt books EVER. You don't color in them, rip them, step on them, etc. I've always made sure to keep a large library of books within easy reach, in case he wants one, but he knows not to hurt them. Make books important in your house so your child will value them. Books aren't just for bedtime! Books are fun at the park or when your child is in the bath (you hold the book!). Make sure books aren't just a boring bedtime routine. Most little ones don't love hitting the hay, so you don't want books only associated with bedtime.
To learn more see: