Did you know that the average newborn can speed through 12 diapers a day! Older babies and toddlers typically use...
Did you know that the average newborn can speed through 12 diapers a day! Older babies and toddlers typically use about 6-10 diapers a day. If your baby is out of diapers entirely by the time she's two and a half years old (many aren't) that's still about
7,500-8,000 disposable diapers
over those 2.5 years. Imagine if your baby is in diapers longer. When you think about it in terms of sheer numbers, cloth diapering makes so much more sense. Cloth diapering is not like days of past either. Forget sharp pins and messy leaks. Today's cloth diapers are highly sophisticated. For a basic primer on alternatives to disposables read
Green Diapers 101: Eco-friendly Diapers
for a cloth diaper primer read
The New Wave of Cloth Diapers
.

One cloth diaper choice is the Gro Baby system. Compared to disposables you'll use considerably fewer diapers. And by fewer I mean like thousands fewer. For example, the
Live GroBaby Package
has 12 Gro Baby Shells, 24 Gro Baby Organic Soaker Pads and 16 Gro Baby Organic Boosters which is enough diapering goodies to keep you diapering strong for a good long while.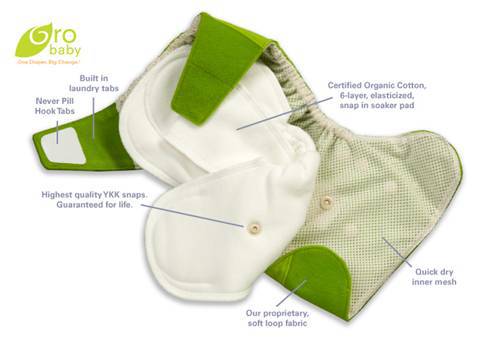 How it works:
Gro Baby
is a modern, one-size diapering system. It comes with a unique waterproof shell and organic cotton soaker pad to minimizes waste and cost. When the soaker pad is wet you simply replace with a fresh and dry pad. The outer diaper shells can be used for multiple diaper changes. According to Gro Baby, 2-4 Gro Baby Shells are usually sufficient per day. Best of all like the name implies, Gro Baby grows with your baby. This diapering system will fit most babies from 8-35 lbs and the unique one-size Organic Soaker Pad fits babies from 8-35 lbs as well.

What about cost?
From a cost standpoint you can't really beat Gro Baby with disposables. Technically, if you're using disposables I recommend a less toxic
eco-diaper brand
or a biodegradable
disposable/cloth hybrid diaper
. However, both these eco-options will cost you. For example a package of
Seventh Generation Disposables
runs about $44 (for a bulk case of 104-140 diapers) which means you'd need about 66 packs in 2.5 years. That will run you almost $3,000. Now if you go with a less eco-friendly store brand diaper you will save some money. For example, in bulk, Target brand diapers will cost about $13.50 for 60-82 diapers. You'd need about 114 packs in 2.5 years which brings your total cost to $1,539. For a
Live GroBaby Package
you'll pay $375. Even if you had to buy a new set annually the total cost would only be $937 for 2.5 years a savings of $600 over Target brand diapers and a savings of $2,063 over Seventh Generation. You can do a lot with an extra $600-2,000 bucks right? Like furnish the whole darn nursery or use that money to extend your maternity leave. From a green living, health, and money perspective, cloth diapers are just plain better than disposables and
Gro Baby
is one good option. Visit the
Gro Baby
website to learn more.