When you have a new baby it's normal to feel tired all the time. However, junior may not be responsible...
When you have a new baby it's
normal to feel tired
all the time. However, junior may not be responsible for all your nighttime woes. If you snore it could be the cause of your sleepy days. Research shows that a mama who snores may not be breathing properly at night which means you may be waking up or not sleeping soundly without even knowing it.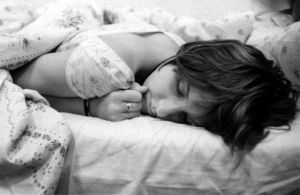 The facts:
Occasional snoring is nothing to worry about and is common. Mainly it's just annoying to a sleep partner.
If you snore all the time you may have sleep apnea and that puts you at risk for some serious health problems such as interrupted breathing, frequent night waking, low blood oxygen levels which can cause blood pressure to rise, and more.
Drowsiness during the day not only makes you cranky but can affect your ability to take care of your baby. People who snore habitually without seeking treatment can be at risk for high blood pressure, enlargement of the heart, heart attack and stroke.
If you're overweight or over the age of 40 you're more at risk for sleep apnea.
So if you're
sleeping when the baby sleeps
and you're still exhausted all the time, consider asking your partner if you snore. Your doctor can help you find a treatment so that you can stay healthy, feel well rested, and be the best mama you can.