My number one recommended baby gear item - the baby bouncy seat, comes in so many styles and with so...
My
number one recommended
baby gear item - the
baby bouncy seat
, comes in so many styles and with so many features that it can be hard to choose. But since you absolutely need one, let's go over how to choose the best baby bouncy seat.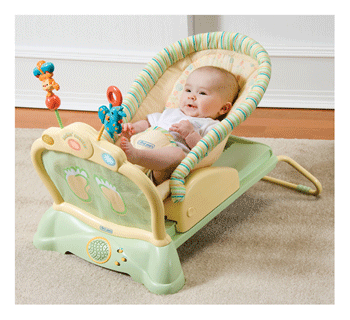 The Kickin' Coaster baby seat!
Safety first:
Look for a three or five-point harness that will keep your baby secure and help keep him from sliding around too much.
Make sure your bouncy seat is stable - it should never tip sideways, the base support should be wider than the seat, and there should be some sort of rubber on the base to prevent skids.
Other nice features:
Music that won't drive you NUTS. Trust me, your baby will fall in love with the music that comes with a musical seat, so you'll be hearing it a lot. Listen to it at the store.
Look for a decent print - you want a bouncy seat cover that hides stains well, or that can be easily removed and washed.
Removable head support so a newborn can use it as well as an older baby.
Look for a vibrating, not just bouncy chair. Most very young babies won't be able to get a chair to bounce on their own. Vibrating is soooooooo awesome because it'll put your little one to sleep nicely.
Removable toy rings are fun for some babies, but they're cumbersome, so make sure you can take it on and off quickly for when you need to pick your baby up in a hurry.
Safety while using your bouncy seat:
Check weight limits. A big baby may tip a chair meant for a smaller baby.
Never set your bouncy seat on a table or other high surface.
Always use the harness.
Don't leave your baby in the seat too long or too often. That can cause baby flat head issues and worse make your baby bored with the chair, which means he won't be content in there when you actually need it - like for taking a shower.
The chair is not child care. Always keep an eye on your baby.
Never carry the seat with your baby in it, and also never use the toy bar as a handle.
Coming up; some cool baby bouncy seat options.