The best thing about the Evenflo Symphony All-In-One Car Seat is that is holds little ones weighing 5-100 pounds, which...
The best thing about the
Evenflo Symphony All-In-One Car Seat
is that is holds little ones weighing 5-100 pounds, which yes, means it's the only car seat you'll ever need. This is a great way to save money and save time with new car seat installs.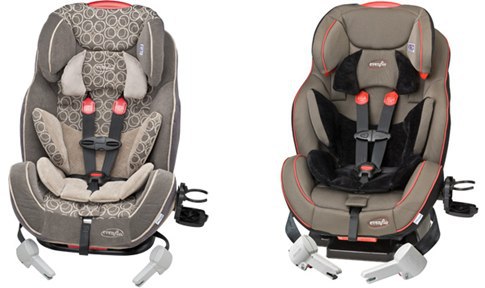 This car seat won both the
National Parenting Publication Awards Gold Prize Winner
for its innovation, usefulness to consumers, and high quality and a best product award from
iParenting
. Besides the fact that this seat holds a newborn up to a child weighing 100 pounds, other nifty features include:
Improved seat with an increased 65 pound internal 5-point harness weight rating to keep children harnessed longer
Easy to use, SureLATCH Connectors for easier installation— Just Click, Click, Push… And GO!
Easy-to-adjust Infinite Slide Harness Adjustment System for secure harness fit. No rethreading!
One-hand adjustable headrest.
Flip-out cup holder holds drinks or folds down out of sight.
ReclineRight multiple-position upfront recline is easy to use and adds comfort for the child
Removable and washable ComfortTouch pad and pillows for extreme baby comfort for your baby.
Designed and tested for structural integrity at energy levels approximately 2X the federal crash test standard
Side Impact Tested - Meets or exceeds all applicable U.S. Safety Standards AND Evenflo's Side Impact Test Standard.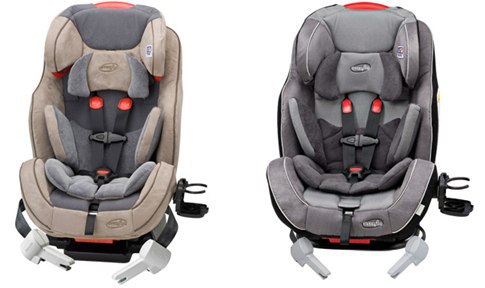 Also it's available in many fun designs and colors that won't get easily stained - which trust me you want. I wish they'd had this when Cedar was a baby, because we went through 3 car seats and you have to learn the ins and outs of each, which is a pain. The only advantage I see to an actual infant seat is that you get a carrying handle, which is handy, but overall, it still would have been nice to just have the one seat.
Learn more at Evenflo
.