As a new mama you probably thought you'd need lots of advice about diapers, baby nutrition, and baby crying -...
As a new mama you probably thought you'd need lots of advice about
diapers
,
baby nutrition
, and
baby crying
- but SHOWERS! Yes, you do need some advice here. Showers are hard to come by as a new mama; trust me I've been there. However, you can get time for a shower and even get mostly clean in the process, even with a newborn and zero free time.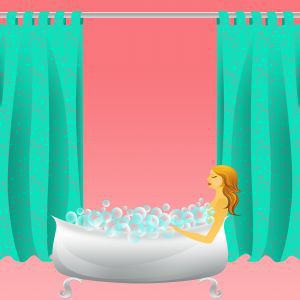 DO
: Take a shower daily. You'll feel better and more prepared to handle baby care if you feel a little like yourself; plus baby care is messy and can make you feel all blah - baby poop, breast milk leaks, and baby drool all make for a messy life. If your normal self likes showers than make this a top priority. Time is short, but you in the shower is way more important than the dishes or returning phone calls.
DON'T
: Be so picky. Before baby maybe a shower at 7am daily was doable. After baby, um, not so much. Choose a time that's easier like an hour after your hubs gets home from work or nightly after you've fed your baby his evening meal.
DO
: Stock your shower with quick all in one products. Your days of lingering showers are over mama. You need a 2-in-1 shampoo and conditioner, fast lathering body soap that can double as shaving gel, and face wash/face scrub in one. Don't choose solo products.
DON'T
: Forget the baby bouncy. The number one product I suggest for new parents is a great
baby bouncy chair
. This is pretty much how I got all my showers when my son was a newborn. I strapped him in and brought him in the bathroom with me. He was content (so long as I kept popping my head out to say hi) and I could stay in longer. Sometimes the pitter patter of the water even put him to sleep! Talk about shower success.
DO
: Have a back up. There are days you really won't be able to snag a shower, no matter how hard you try. For days like these, have a back up plan. One - wash your face at the sink. Two - run a brush through your hair. Three - spritz on a relaxing all over body spray that will make you feel clean and fresh like
Happy Mama Spray
from
Earth Mama Angel Baby
, an amazing mix of pure essential oils and flower essences that will make you feel fresh and chill.