Planning a green baby shower allows you to have a beautiful and fun baby shower without a large eco-footprint. Plus,...
Planning a green baby shower allows you to have a beautiful and fun baby shower without a large eco-footprint. Plus, it's not as hard as you might think to plan a green baby shower. Here are ten tips that will help.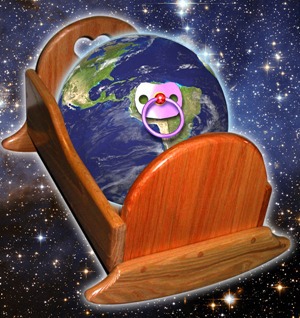 Register for green baby gifts: Register for green baby gifts and if you already have enough gear you might want to consider having family and friends donate to an eco-organization in your family's name. Don't forget that you can register for green mama gifts too!
Green your baby shower invites: Email baby shower invitations are your greenest bet, but after that recycled cards or tree-free paper baby shower cards are good too.
Serve organic foods and drinks: Choose organic snacks and drinks, an organic cake flavor like lavender or raspberry, and decorate cakes or salads with pretty little candied lilacs or other edible flowers.
Skip disposable dishes: Use real dishes or biodegradable dishes, cloth napkins or 100% recycled paper napkins.
Forget balloons: You can use all sorts of decor but balloons are very bad for the environment so I'd skip them. They fly away and animals eat them and die, plus they're made with non-eco-friendly materials. If you want a hanging decor option, try this lovely Valentine's day DIY decor idea but make it with pink and blue paper.
Give green baby shower party favors: Small jewelry boxes, a candle holder, a soy candle, or organic flower seeds are shower gifts that will actually be used vs. little plastic items that won't. You can even make make cool favors with recycled sea glass beads.
Make little organic roses: Organic cloth diapers, onesies, washcloths and more can be rolled into sweet roses, lolly pops, or even bunnies. These work as both a sustainable decor option and as a baby gift at a shower.
Light up your evening baby shower: If you're having an evening baby shower, twinkly LED lights strung around the room are pretty. You could also make some nature based candle arrangements which make a baby shower ultra relaxing.
Green your wrap: Although it's hard to get everyone to do this, you can ask your guests to wrap gifts in recycled gift wrap or reusable items like a basket.
Grab some organic flowers: Organic flowers are grown without pesticides and make great decor for a green baby shower and a fab gift for mamas.