When crisis occurs many mothers stop breastfeeding for one reason or another. During World Breastfeeding Week 2009 the World Alliance...
When crisis occurs many mothers stop breastfeeding for one reason or another. During
World Breastfeeding Week 2009
the World Alliance for Breastfeeding Action (WABA), and breastfeeding advocates are attempting to dispel the common misconceptions and myths surrounding breastfeeding during emergencies, because crisis or not, breastfeeding is best. In fact, babies who are breastfed throughout a crisis or emergency situation come through healthier than babies not breastfed. When emergency relief teams come in with formula and bottles babies suffer.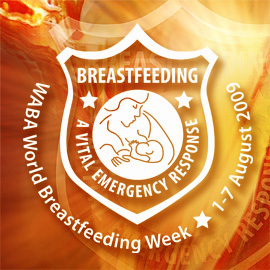 According to WABA, the following issues and questions commonly come up for mothers and babies during time of crisis.
MYTH: "Malnourished mothers cannot breastfeed."
FACT: Malnourished mothers can breastfeed. Moderate maternal malnutrition has little or no effect on milk production. In fact, the mother will continue to produce milk, at the expense of her own body stores. Extra food and fluids are needed to replenish the mother's own reserves, and micronutrient supplementation may be needed. She also needs encouragement and support to breastfeed frequently. SOLUTION: Feed, nurture and support the mother and let her feed the baby.'
MYTH: "Stress prevents mothers from producing milk."
FACT: Stress does not prevent production of milk, but may temporarily interfere with its flow. Breastfeeding mothers have lower stress hormone levels than non-breastfeeding mothers. SOLUTION: Create conditions for mothers that lessen stress as far as possible – a protected area, a mother-baby tent, reassurance from other women, keeping mothers and babies together, listening to mothers' special needs – and making sure the child keeps suckling so that milk flow continues.
MYTH: "Once a mother stops breastfeeding, she can't restart."
FACT: A mother can restart breastfeeding – there is no time limit. In some contexts, grandmothers have breastfed their grandchildren. SOLUTION: Offer support for breastfeeding and relactation.
MYTH: "When a woman has been raped, she cannot breastfeed."
FACT: Experience of violence does not spoil breast milk or the ability to breastfeed. SOLUTION: All traumatized women need special attention and support. There may be traditional practices that restore a woman's readiness to breastfeed after sexual trauma. Breastfeeding can sometimes help women to heal after sexual trauma but respecting and supporting their decisions and needs is a priority.
MYTH: "HIV positive mothers should never breastfeed."
FACT: Exclusive breastfeeding for six months is the safest option and gives the best chance of HIV-free child survival, unless total replacement feeding is acceptable, feasible, affordable, sustainable and safe (AFASS) – most unlikely in emergencies. After 6 months, if replacement feeding is still not AFASS, then continued breastfeeding with adequate complementary foods is the safest option. The risk of postnatal transmission can be lowered with mother and/or infant receiving anti-retroviral (ARV) drugs. Mixed feeding in the first six months (combining breastfeeding and formula feeding and/or too-early introduction of complementary foods) is the most risky feeding option, since it increases the risk of both HIV transmission and infections due to other causes, such as diarrhoea. Where the HIV status of individual mothers is unknown, then recommended feeding practices are the same optimal feeding practices as for the general population, irrespective of the prevalence of HIV in the population.
*Source:
World Alliance for Breastfeeding Action