A study published this week in the Journal of Marriage and the Family, found that when mothers and fathers enrolled...
A
study published this week
in the Journal of Marriage and the Family, found that when mothers and fathers enrolled together in 16-week sessions to work on their relationships as parents and partners, their children were much less likely to show signs of depression, anxiety and hyperactivity.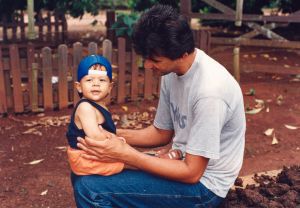 The study, conducted by some of the nation's top family and child developmental researchers, notes that family service agencies are missing a huge piece of the child support puzzle when they overly focus on supporting mothers and ignore fathers. Dr. Kyle Pruett, clinical professor of psychiatry at the Yale School of Medicine and a co-author of the study, says, "
The vast majority of family services -- from parenting classes to home visits -- are really aimed at mothers, while fathers are almost completely overlooked... the research is clear that the best way to create a healthy environment for children is to engage dads and moms together.
" An executive summary of the research and the full research paper are available at: The most recent census states that one in three children grow up without fathers although in the low-income population, the percent of kids without dads is even larger. Partner that with hard economic times and we're looking at a lot of negative issues popping up in families. The new study looks at what positive results happen when family resource agencies actively encourage fathers to become more involved in parenting their young children and when those agencies offer programs that help fathers foster positive relationship and parenting styles.
Results
:
Parenting stress decreased when fathers and mothers participated in the groups together rather than alone.
When fathers and mothers go through parenting groups together, the quality of their relationships as couples
is more stable.
Children of fathers who went through the program alone or with the mothers were much less aggressive, hyperactive, depressed or socially withdrawn than children of fathers in the control group.
It's clear that when dads are involved in parenting groups and with their kids the entire family benefits. For more tips on how to be a great dad read:
Becoming a dad - issues that matter to new dads
.
*Source: Supporting Father Involvement study