Today I've got anniversaries on the brain so I thought we'd look at some anniversary options for new parents. You've...
Today I've got
anniversaries on the brain
so I thought we'd look at some anniversary options for new parents. You've only got one wedding anniversary a year, but if you also recently had a bouncing bundle arrive, you may be pressed for time and money. Here are some ways you can celebrate your anniversary if you just had a baby.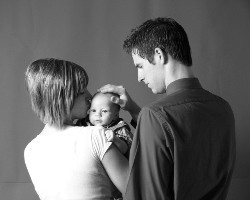 Get a sitter and go out
: Not very imaginative sounding I know, but new parents tend to stress over getting a sitter. I'm here to tell you that you can get a sitter and go out for the night. Find the
perfect sitter
, leave your sitter with
some helpful tips
or even a
babysitter checklist
, and if you're short on cash, read up on
3 ways to save on a sitter
.
Plan a daytime event:
A picnic can be just as much fun as a night out, and you can even take your baby along. You could also plan for a whole day trip, say to the beach.
Make some lovin'
: NO not that kind missy. Try making your partner a mix CD of all your favorite songs, make a homemade card and cake, and maybe add in a bouquet of low-cost flowers. A meaningful gift doesn't have to cost a lot.
Spice up the night
: OK now we're talking about THAT kind of lovin'. If sex is new to you two again, due to the arrival of a little one, read the
sex after pregnancy guide
for tips. No matter what you do make sure you plan something. A new baby is no reason to ignore each other. Remember,
happiliy married people are healthier people
which can help you to be a better parent.