You've got two days left to enter our Earth Mama Angel Baby giveaway. If you haven't entered yet because you're...
You've got two days left to enter our Earth Mama Angel Baby giveaway. If you haven't entered yet because you're not sure about their products, here's one great one to consider... The Angel Baby Kit is the perfect unique natural baby shower gift. This beautiful gift is well-priced, and has everything new parents need to pamper their baby. Plus gift items are sweetly snuggled in an adorable box so there's no wrapping required. I recently had the chance to review this gift and it's an awesome gift package for babies.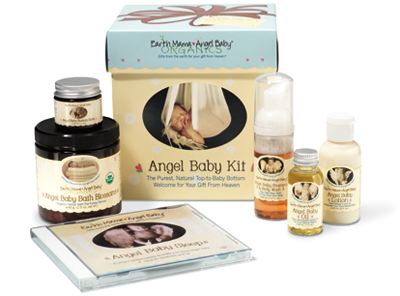 Product: Angel Baby Kit
What's included: Organic bath blossoms, diaper rash balm, pure, mild shampoo and body wash, organic baby lotion and baby oil, and a sleep inducing CD (see bottom of post for full product specs).
Cost: $39.95
Eco & safety perks: All Earth Mama Angel Baby products are natural and / or organic, safe for babies and pregnancy, and come from a company that really cares for the environment. Read about all the eco-perks of this company.
What I think of the Angel Baby Kit:
First of all I love that the EMAB company is so green and non-toxic. All their products score 1 or less at Skin Deep which is an amazing accomplishment. As for the individual products...
Angel Baby Bath Blossoms
: This treat is made with a sweet herb blend of pure, organic blossoms of calendula, chamomile, rosebuds and lavender along with organic lemon balm and moisturizing organic oatmeal. You simply fill the enclosed muslin bag with bath blossoms and you can place it in the tub, or even use it as a gentle washcloth. I thought the scent was super relaxing and my son liked soaking with it while he was sick. The scent is sweet but not too strong for babies, and mamas will love these bath blossoms too.
Angel Baby Bottom Balm
: I love that this is a multi-use balm for the entire family. This clinically tested balm can be used for battling existing diaper rash and protects against flare ups, plus can be used to combat itchy cradle cap, bug bites, scrapes, chicken pox, minor rashes, burns and scrapes. At first I thought this balm was a little greasy (I was worried it might get on clothing) but if you give it a minute or two, and rub it in well, it absorbs nicely. The scent is far superior to conventional store-bought diaper rash balms. This balm smells of tea tree not medicine.
Angel Baby Lotion
: This lotion is a sweet blend of cruelty free, toxin-free ingredients and is certified vegan. Made with organic rooibos, which is soothing to eczema, skin allergies and diaper rash. I like this lotion, although mamas might want something richer. It's super light and gentle - so perfect for babies and smells slightly of natural orange.
Angel Baby Oil
: This nut-free body oil is infused with calming organic chamomile and moisturizing organic calendula, and is almost scent-free. If you use oil, you'll recognize a slight grapeseed oil scent but it's so light it won't bother your tot. Perfect for baby massages.
Angel Baby Shampoo & Body Wash
: I think this is the BEST smelling baby wash and shampoo EVER - fresh and earthy but not too strong. It's made with all safe and natural ingredients like organic coconut oil, organic olive oil, organic shea butter, organic aloe leaf juice, organic vanilla bean extract, orange oil, and Vitamin E. It's a foaming wash that won't run into your baby's eyes and the foam makes it easy to use only what you need.
Angel Baby Sleep CD
: I actually did not test this CD on a baby but I put it in while I was working, to see how it was, and it almost lulled me to sleep. Course, I'm a busy mama, but I'm betting this spoken lullaby will also peacefully help your baby to drift off.
OVERALL:
I liked everything in this kit and would highly recommend it as a perfect baby shower or new baby gift set. The fact that it's completely non-toxic and eco-friendly is like the cherry on the cake. If you're thinking that the above gift set looks good, don't forget to enter our
Earth Mama Angel Baby giveaway
- you can win a gift certificate to the EMAB shop and try out some of these goodies for yourself. You might also like to read a review of another great EMAB product - the
I Love My Mama Gift Set
. [gallery columns="4"]
The Angel Baby Kit includes: