If your little one is turning one, and you'd like it to be special, but are short on time (what...
If your little one is turning one, and you'd like it to be special, but are short on time (what parent of a one-year-old isn't short on time?), you can find everything you need online. With a few clicks of the mouse, you can plan an amazing birthday party to celebrate the first year of your tot's life.
Birthday decor: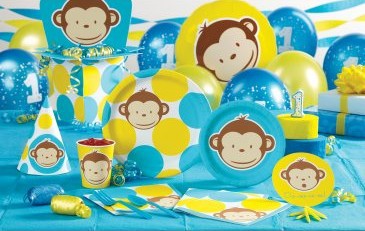 Birthday Express - find every single birthday theme under the sun and get all your decor needs taken care of in one fast swoop. Most first-year kits come in basic which include invitations, dinner plates, dessert plates, cups, forks, spoons, napkins (2 per guest), solid-color tablecover and cake candles. Or you can get a deluxe kit with a few extras like a centerpiece, cone hats, mylar balloon, 24 regular balloons, curling ribbon, and crepe paper rolls. The Mod Monkey birthday set seen above is just one fun example, but they have all sorts of one-year-old themes. Invitations & thank you cards: Tiny Prints: Carries tons of stylish birthday invitations. From mod to playful to funny to charming, you'll find the perfect invites and thank you cards here. Boys birthday invitations or girls birthday invitations and gender neutral invitation searches make it easy to find what you want and all cards are easily personalized. Thank you notes are available as well. Paper Style: Has a large selection of invitations as well, offering 1st Birthday Invitations, Party Animals Birthday Invitations, Ice Cream Party Invitations, Boy Birthday Invitations, Girl Birthday Invitations, Princess Party Invitations, Slumber Party Invitations, Sports Invitations and more. They also customize and even have a handy free wording suggestions feature available. Yummy cakes: Cakes Across America: Offers basic "Chocolate or golden yellow birthday cakes with chocolate or white buttercream icing." All are custom decorated and can be personalized for your little one. You can also add touches like custard or fruit filling. Cakes Across America offers a total online shopping experience, you can log on, choose your cake, and it's a done deal. Most major cities are served by this company. Send A Cake: Professionally fresh baked and custom decorated cakes for any occasion, including first birthdays. You choose the type of cake ingredients, the frosting and even the decorations and a Send A Cake baker will make it fresh and then you get on time Hand Delivery to your home or delivery address. Fun & games: You don't need to buy special games for a 1st birthday - kids this age are too little anyhow. You can find free inexpensive game and activity ideas at the following links...
Organic Cotton Bowling Buddies Set from Giggle
.