At six months your baby is becoming more curious and is starting to get her move on. Toys that encourage...
At six months your baby is becoming more curious and is starting to get her move on. Toys that encourage movement and use of hands are helpful at this stage. Here are two great
Tiny Love toys
for your six month old that encourage proper baby development.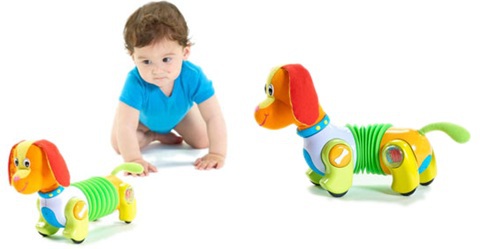 Follow-Me Fred:
An adorable self-rolling puppy with an accordion shaped body. This little guy's body can be set to move in a straight line as well as in a circular motion and moves when your baby touches him. Follow-Me Fred engaes your baby and encourages her to start crawling. This toy also enhances cognitive development with activities that trigger feedback. Also encourages emotional intelligence because babies are learning to relate to Fred as they follow him around. Other Fred features include:
Speed control for different crawling stages
Barks to remind baby to come and play
3 friendly musical tunes
Fun mirror with beads
A hologram to explore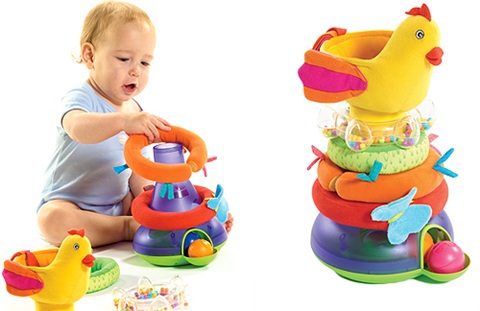 Musical Stack & Ball Game
: This lovely, unique, and colorful stacking toy is not only fun to look at but packed with six month old friendly fun. This toy develops multiple skills such as stacking, sorting, threading, opening and closing. The fun rattling balls and feedback music will encourage your baby to come back and play again and again. The Musical Stack & Ball Game provides understanding for cause & effect, such as receiving sound feedback when dropping the ball through the hen. Also helps your baby to develop an understanding of size (stacking the rings), learning about gravity (drop the ball in the top, it appears in the bottom). Other features include:
"Multicolored fabric rings and clear plastic ring filled with beads and colored balls stimulates vision.
Large range of sounds – musical hen, rattling balls, crinkling fabric rings, clanging as the balls fall – develop hearing.
The combination of fabric and other materials (various textures, smooth and rough plastic) provides a variety of experiences and different sensations, stimulating the sense of touch."
See more
six month old appropriate toys at Tiny Love
.