If you've got a fun family vacation planned this year, and you'll be flying, there are some ways to keep...
If you've got a fun family vacation planned this year, and you'll be flying, there are some ways to keep it chill and easier, even with a baby in tow.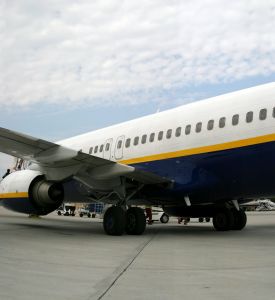 Fly on the least traveled days - usually, for most airlines, this translates into mid-weekdays, like Tuesday, Wednesday, or Thursday. However, with kids out of school, that can change come summer. Check with your airline because they may be able to tell you the typical least flown days and time for your route. Try to fly direct - it's hard enough to make one flight with a baby, let alone switch over. Don't fly at night, unless... - Flying at night may seem like a good plan because your baby is likely to sleep more, but if you aren't a good sleeper on planes, what will happen is you'll be super tired the next day and that makes baby care harder. Trust me, the night you don't sleep, your baby always seems to know and she'll reward you by being extra active the next day. By the extra seat - if you have a car seat, take it with you and let your baby sit in her seat. On a short flight it may not matter, but on a long flight you'll be happy to be able to move your arms once in a while. Also, an overstimulated baby (seeing new plane sights and sounds) may get even more agitated when you hold her. Sometimes too much stimulation can make for a cranky tot, so some alone time in her seat might be worth the extra ticket price. Get to the airport EARLY! - I've been late with a baby in tow and trust me it's no fun to run through an airport lugging a baby, a car seat, and all your gear. Don't forget the basics for your on-flight travel bag - most airplanes have some necessities set aside in case you need something, but that doesn't include baby care products. Take the following:
Snacks and or a bottle if your baby drinks formula.
An extra shirt for you in case your babe spits up on you.
A baby blanket that can double as a breastfeeding cover up.
A few small toys and books.
An empty travel sippy cup for water on the plane.
Diaper, wipes, and an empty plastic bag for any icky messes - i.e. your baby explodes poop onto her clothes.
Extra pacifiers if your baby likes them.