There's this new book out by Tom Hodgkinson called The Idle Parent. I am SO interested in this book. The...
There's this new book out by Tom Hodgkinson called The Idle Parent. I am SO interested in this book. The premise behind it is that "Kids and adults alike need to play more and work less. We put far too much effort into parenting. If we leave our kids alone, they will become more self-reliant and we'll be able to lie in bed for longer."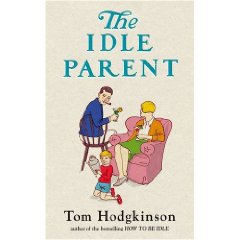 I'm telling you, if I wrote a book on parenting, this would be along the lines of what I'd write. You currently can only pick this up from the UK (hopefully soon to be released in the U.S.) but you can read an excerpt at Slate. The book appears to focus on how parents should chill, how kids should chill, and how we'll all just get along better if we do so.I like that the book appears to focus on more family time for happier families as well.
As an unschooling mama, this totally appeals to me, and I can tell you from first hand experience that when parents relax or get lazy, kids relax, and everything goes smoother. At my house, we of course have safety rules; i.e. no bike without a helmet, no drinking the cleaning products, etc. BUT we don't have arbitrary rules. We don't police bedtime, food, or TV time, and it works really well for us.
Example: My son Cedar is allowed to make his own choices about food. More often than not, he makes what nutrition experts might call "smart choices", because he can tell his body needs the veggies, bread, sweets what have you. Kids I've met who have parents forcing food choices go insane when you set candy or cake in front of them, but not Cedar.
Example: I've never forced chores on Cedar, just asked him to help out as part of the household. He rarely argues helping out and usually does so without asking.
Letting go of typical parenting rules can work in your favor. Being casual and chill does work with kids. Strict rules are not always best.
The website for The Idle Parent posted the following manifesto...
THE MANIFESTO OF THE IDLE PARENT
"We reject the idea that parenting requires hard work We pledge to leave our children alone We reject the rampant consumerism that invades children from the moment they are born We read them poetry and fantastic stories without morals We drink alcohol without guilt We reject the inner Puritan We don't waste money on family days out and holidays An idle parent is a thrifty parent An idle parent is a creative parent We lie in bed for as long as possible We try not to interfere We play in the fields and forests We push them into the garden and shut the door so we can clean the house We both work as little as possible, particularly when the kids are small Time is more important than money Happy mess is better than miserable tidiness Down with school We fill the house with music and merriment We reject health and safety guidelines We embrace responsibility There are many paths More play, less work"
I LOVE it. Hopefully I'll get to review this book soon, and I'll tell you what I think. Until then you can visit The Idle Parent to learn more.
What do you think? Should parents relax more or do you think we should always have a bunch of set strict rules in place?