If you've had your pictures stored on KODAK Gallery they've got a new policy in place that states, "You must...
If you've had your pictures stored on
KODAK Gallery
they've got a new policy in place that states, "
You must make a purchase from the Gallery within 90 days of your first upload, and then every 12 months thereafter. (purchases based on your storage use) If you do not meet the applicable minimum purchase requirement, your photos may be deleted.
" So, if you've been using KODAK for safekeeping your baby photos, and don't want to make a purchase, you may need to move your photos.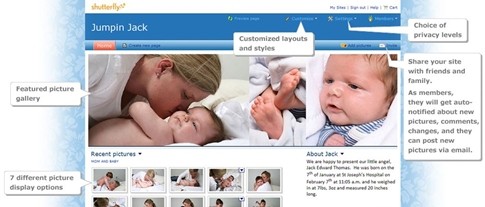 Above - example baby Shutterfly site
This week,
Shutterfly
is extending a virtual "welcome mat" to new customers May 15-May 18. Shutterfly has a long-standing free storage policy, i.e. you won't be charged and your photos won't be deleted.
BONUS:
"As a welcome, each new customer will receive approximately $50 worth of merchandise, including a free photo book, 25 free prints and 12 designer stationery cards."
Besides free, secure storage, Shutterfly benefits include:
No forced deletion of your photos.
No minimum purchase required.
High-quality photo backups.
Free photo sharing with friends and family; plus no sign up rules to view.
Free personalized website where you can share photos, journals, video and more.
You can also make many cool baby photo projects such as...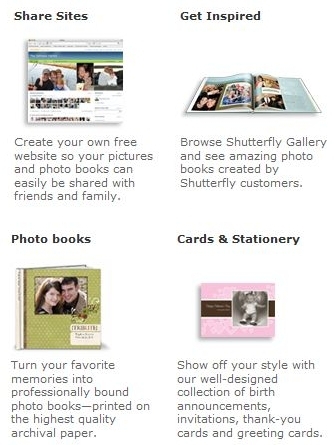 The Shutterfly service is a great way to
keep your baby photos organized
, safe, and incorporated them into sweet gifts. Head over to
Shutterfly
to learn more.