Right now we're half way into our Barley & Birch organic baby clothing giveaway. I received an organic tee from...
Right now we're half way into our
Barley & Birch organic baby clothing giveaway
. I received an organic tee from Barley & Birch to review, and following is what I think: First of all, Barley & Birch has so many green aspects to love. If you missed it, take a look at the
green perks of Barley & Birch
. Right there they score points, because of course we want baby clothing that's healthy for our tots and the planet. They also score points on other levels too though...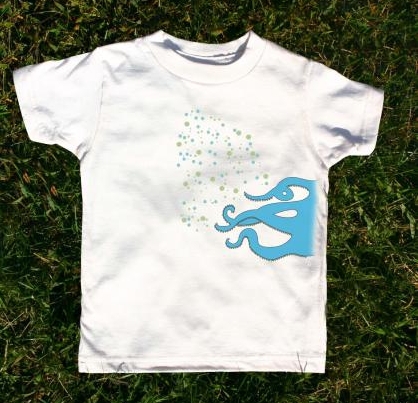 Product
: I got the totally adorable
Octi tee
in size 2 (see above). This tee is made with 100% certified organic cotton and printed with water-based, non-toxic ink. It's also made sweatshop-free. In the image above you can't see the colors clearly, but this tee is a lovely natural oatmeal shade (unbleached organic cotton is healthier for the planet), and the shades of blues and sea greens really pop out on the tee. The image below is one of the Barley & Birch cutie models wearing this design in a tank. In this image you can see the colors more clearly.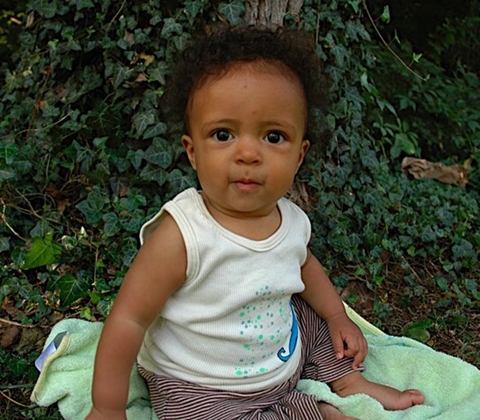 This tee was super soft, tagless (so no itchy baby neck), and came in minimal packaging (all recyclable). It seemed sized correctly for a 2 year old, which was nice. Many organic clothing pieces I get to review seem sized small, but this size seemed to be just what it says it is (i.e. fits the average 2-year-old). I tossed it in the wash a few times to see how it fared and it didn't shrink at all.
NOTE
- I always wash on cold with natural detergent and hang dry. If you machine dry, which I don't recommend being that it's not eco-friendly, it may shrink. It may not, but note that I haven't tried it. After washing the colors didn't fade and there were no loose stitches. The shirts are soft and the designs cool enough for parents but also clever and colorful enough to amuse a little one. I couldn't find any negatives of this tee and would highly recommend the Barley & Birch clothing line to parents, or folks looking for an eco-tot gift. Visit
Barley & Birch
to see their whole collection AND don't forget to
enter our Barley & Birch giveaway
- you could win one of these great tees for your own little tree hugger.