Even at a very young age (two months or so) your baby will be interested in playtime activities that help...
Even at a very young age (two months or so) your baby will be interested in
playtime activities
that help develop her motor skills. However, with a two-month-old baby's limited movement skills figuring out how to play and work on motor skills can be tough. Good fun playtime activities that also develop motor skills include: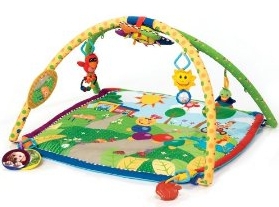 Cradle gyms
: These are those
little activity centers
you see that fit across a baby swing, a crib, a playpen, or even stand alone. Most offer some cool items your baby can grab hold of, spin, pull on, or bounce. Some hanging activity centers come as a full activity set with a bottom mat included, like the
Baby Einstein Seek & Discover Activity Gym shown above.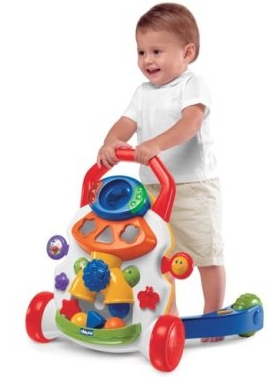 Activity boards
: Boards for babies usually include plenty of bright colors, little pockets to open, wheels to spin, and more. Tiny babies won't fully get how to use an activity board, but they'll quickly grow into it. One cool activity board is the
Baby Activity Walker by Chicco
, shown above. As a little baby, your tot can sit in front of this board and play. Later, she'll be able to use it to help her learn to walk.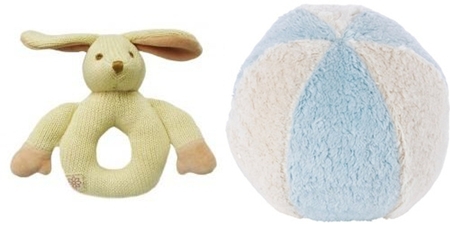 Rattles and small soft balls
: These are the best for two-month-old babies, because they're simple, easy, and help your two-month old learn to grab on. Make sure you get safe, non-toxic rattles and soft balls, because once your baby learns to hold the item, it'll end up in her mouth. Two non-toxic choices include
the Certified Organic Knitted Bunny Rattle Teether and the
Natural Friends Organic Play Ball
(both shown above).