If you've ever felt totally overwhelmed by the sheer amount of baby and parenting books out there, then ParentsDigest may...
If you've ever felt totally overwhelmed by the sheer amount of baby and parenting books out there, then
ParentsDigest
may be able to help you. Their motto is, "
We read the books so you don't have to.
" Nice for a busy parent.Like speedy parent Cliff-Notes.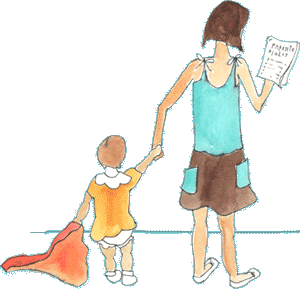 How ParentsDigest works:
ParentsDigest is a an online subscription service. The experts at ParentsDigest "
Read the best and most popular books about parenting and family health, summarize them and deliver them over the Internet to subscribers.
" You as a subscriber can view summaries of the books you choose. Each summary is a professionally written, concise synopsis of all key concepts of each book. ParentsDigest extracts the most important facts and points found in each parenting or family health book and write them up into brief, but comprehensive, abstracts of approximately 3,500 words (about eight letter-size pages). Since this is much smaller than the actually book you can read a summary in about 30 minutes vs. days to read the entire book. You can create a sample account to
view free summaries
. You'll need an email address. Each year the company adds 150 new parenting book summaries. Categories of parenting books range from babies to teens, to organic and green parenting issues, to pregnancy, to child health plus well-being, and more. As an annual subscriber, you'll get two summaries delivered to your e-mail monthly. After signing up, you can cancel within 60 days for a full refund - read the
Money Back Guarantee.
I'm a reader, so I actually enjoy all the book reading that comes with parenting. However, I also read super fast, always have. My best friend on the other hand, doesn't read as fast, and she's super busy, so a service like this would be perfect for her. There are
tons of books to choose from
too. The service is a surprisingly good deal (under $6 a month for the year) - you get two book summaries a month and there's no way 24 books a year will cost less than $6 a month. If you're not sure this is a perfect service for you, I'd check out their
special three month subscription option
. For under $20, you get an introductory subscription, so that you can make sure this is for you.
Visit ParentsDigest to learn more.
[image via
ParentsDigest
]