I don't think there's actually an official cupcake baby shower day; there is a National Cupcake Day, which we sadly...
I don't think there's actually an official cupcake baby shower day; there is a
National Cupcake Day
, which we sadly just missed, on December 15th. Missed or not, Christmas is over, the weather has been dreary as sin, and everything has a moody quality to it. So, I say we have a cupcake day. Nothing is more cheerful than cupcakes; plus so far as cakes go, it's nice to get a little cake taste. Slices are just too big sometimes. Cupcakes come in and out of style, like anything, but they're currently hot, and nothing is more adorable than a
cupcake themed baby shower
. Today, we'll look at cupcake party goods, cupcake baby and mama gifts, cupcake party favors, and more. Oh yeah, and the actual cupcakes. In fact, I'm going to kick this day off with two of my absolute favorite baby shower cupcake collections ever.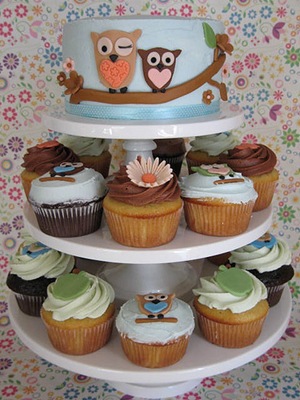 First this beautiful baby shower
Owl Cake and Cupcakes
display by an insanely talented artist at
Blue Cupcake
. Such a cute display - the mama and baby owl cake atop all those lovely cupcakes! Blue Cupcake is a Los Angeles custom cupcake company. Sad if you don't live in L.A. huh? If you do happen to live in L.A. I'd check out
Blue Cupcake
for all your pretty cupcake needs, you won't believe the beautiful little cakes they make. If you don't live near there, have yourself a little sigh, then use this theme as one idea. You can usually tell great cake decorators what you want, and they can come up with something close.
Another lovely baby shower cupcake display is from an old P&B favorite,
Pink Cake Box
, who never fails to amaze me. Their
Two Peas in a Pod
cupcakes and cake is totally adorable. It was made to celebrate a mama-to-be of twins, hence the cute little double peas in pods. Also, atop this cake is a signature creation of Pink Cake Box, their mama-to-be cake topper. If you visit their
baby shower cake page
, you can see all sorts of great mama cake toppers. Check out how you can see the little belly button! Sheer genius I tell you. Now Pink Cake Box is also a local shop, but they're east coast. They generally deliver to the New Jersey, New York, Connecticut and Eastern Pennsylvania areas. Sadly they can't ship cakes or cupcakes, but if you're really into their work, they can send cookies your way. Something like their
onesie baby shower cookies
(below) would make a shower extra sweet.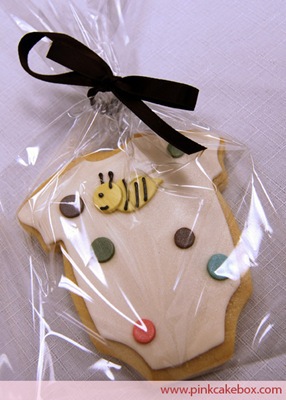 No worries if you live somewhere besides L.A., New Jersey, New York, Connecticut or Eastern Pennsylvania; I'll have some other cupcakes up later and it won't matter a smidgen where you live.
Dang, does anyone else REALLY want a cupcake now?