When it comes to choosing the right infant carrier, there's a lot to consider. Do you go with a sling,...
When it comes to choosing the right
infant carrier
, there's a lot to consider. Do you go with a sling, a backpack carrier, a front carrier, or a combo sort of carrier? Here are some handy tips to help you pick the best baby carrier for you and for your baby.
Safety first: No matter which infant carrier you choose, safety is the most important aspect. Your aunt may make a wonderful looking baby sling, but how safe is it? It's best to purchase an infant carrier from a reputable seller that has the added security of a recall system and rigorous testing.
Safety points to look at: You'll need to make sure you get the right size carrier for your baby. Some carriers are not meant for infants who can't hold their heads up yet, while others have weight limits. Read the fine print before you buy; nothing is worse than spending money on a baby product that you can't use. Once you get your baby carrier, you'll need to adjust the carrier to suit your baby. Most are not one-size-fits-all. Most have straps and positioning options that will not only need to be adjusted to fit your baby and you, but readjusted to fit your baby as he grows. Also, if you don't want to readjust for both parents, you might want to consider purchasing two carriers - no two partners are the same size.
Comfort: Is the sling comfortable and made with fabric that won't irritate you or your baby's delicate skin? It's best to try out a carrier at the store before buying. For example, although I advocate slings, they're not comfortable for me. I always liked front packs best. However, plenty of my mama friends loved their slings, while many dads I know opt for backpack carriers.
Ease of use: Many parents love the comfort and convenience of a front pack baby carrier, but they can be difficult to learn how to put on. They're also not as handy if you want to take a sleeping baby out - you can do it, there's just a steep learning curve.
Design: Lastly, there is a wide variety of carrier designs to choose from.. If you pick on that's red or has a bold pattern, you better be darn sure that you won't be sick of it in a few weeks. Another option is to customize a plain carrier. I had a plain old blue baby front pack, and I sewed cool patches on it. If you customize, make sure you don't change any of the carrier's safety features.
Carrier options
: One nice option is the
Easy-on Infant Carrier
. Not only is it comfy (there's back support for you!), but it's easy to take your baby in and out of this carrier. It has a nice basic design and it gets extra bonus points for the budget-friendly price. This carrier works great for newborns, as well as infants weighing up to 25 lbs.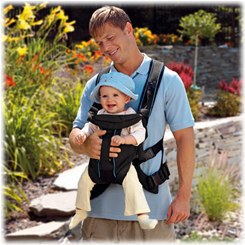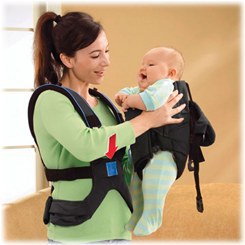 Other infant carrier options:
Special thanks to Fisher Price for their contributions to this post.