If you or someone you love is having a baby shower soon, you'll need some baby shower gift ideas stat....
If you or someone you love is having a baby shower soon, you'll need some
baby shower gift ideas
stat. If you're on the receiving end; well, congratulations, and check out this post:
Creating the perfect baby registry
. It's a snap to come up with
baby shower gift ideas
for someone special because new mamas needs plenty of baby gear, from bouncy seats to mobiles to
play yards
, to clothing, to meal time accessories and more. Following are some great
baby shower gifts
that new parents (and their baby) will love.
Rainforest Jumperoo
: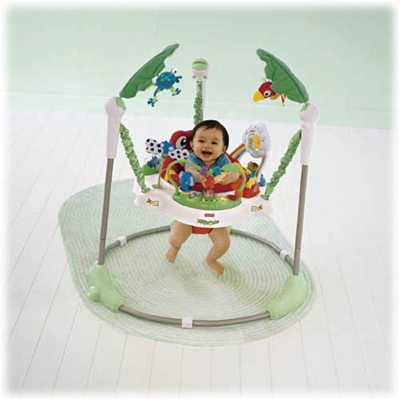 The Rainforest Jumperoo provides safe jumping fun for your little one. Jumping activates rainforest themed music and light, and there are plenty of toys for extra fun. Baby entertainment included with the Jumperoo includes a bobbing elephant, swinging monkey, spinning lizard and more that your baby can easily explore on his spinning Jumperoo seat. You can activate the lights and music for your baby, for up to 4 minutes of continuous play, or your baby can activate this himself by spinning the little drum.
Perks:
3-position height adjustment for a custom fit for your child.
A safe place for your baby to play - you can finally get the laundry done! Wait, are we excited about that?
Of course, your baby has to be able to hold his head up by himself before you can put him in this jumper – and make sure you don't use it after he can climb out.
Soft spring covers keep little fingers safe.
Moving, spinning, and jumping in a baby jumper enhances large motor skills.
Plenty of textures are included to provide tactile stimulation, while the bright colors and music expand your baby's vision and hearing development.
You don't need a doorway with this stand-alone jumper. That's handy, because if you've ever tried to install a doorway baby jumper, you know what a pain it is.
Bonus - you can fold it neatly up and carry it room to room.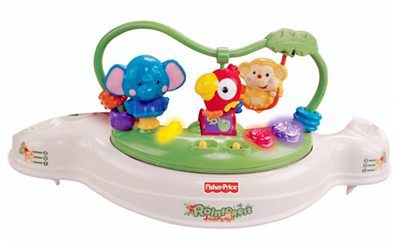 Another must have baby shower gift is the
Rainforest Bouncer
. If you're a frequent Pregnancy & Baby reader, you'll know that I'm a huge fan of baby bouncy seats (you get to shower when you own one - just carry it into the bathroom with you!) This one is adorable; I especially like the waterfall, take a look...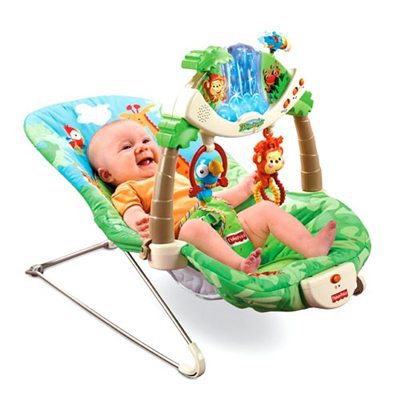 Super cute, right? Your baby can relax in this comfortable bouncy seat while the rainforest animals entertain him - there's a tree frog, little monkey and a movable toucan. Or baby can bat at the hanging toys to start the light-up waterfall and peek-a-boo action, plus the rainforest songs and sounds. (Mom can activate them for continuous play, too!) a light-up waterfall, plus rainforest songs & sounds. If your baby is overly excited there's a soothing bouncy seat vibration setting. Vibration seat settings are always useful – I know they helped relax my son to sleep when he was little. (You can use this bouncer until your baby is able to sit upright by himself.) You and your friends can also go in together for the big ticket baby items, like the stroller, crib or car seat all of which make for great
baby shower gifts.
If you are watching your pennies (and who isn't?) every new-mom would appreciate you gifting your time, by babysitting, doing laundry or dropping off ready-to-eat meals.
Special thanks to Fisher-Price for their contributions to this post.